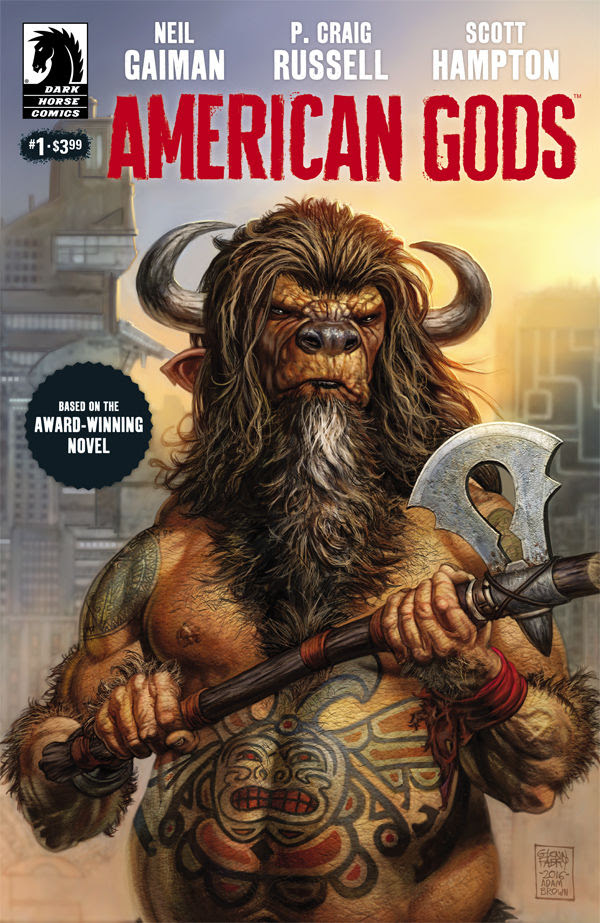 Herodotus was arguably the first man to record history as we know it today. His narratives were filled with accounts of myths, factual information and stories told to him. And during the 5th century BCE his investigative journalistic techniques helped expose the reasons and motivations behind why people do what they do. Essentially, his great work 'Histories' exposed the idea of how people manipulate history to suit their own purposes. Whether he's seen as a king of lies or as Cicero, the famed ancient Roman writer described him as the 'the father of history,' Herodotus understood that myths are the driving force of society. Without them, we become ships with no anchors, always drifting. So what happens when we stop believing in myths?
Before you enter the world of 'American Gods' you are met with a vast array of characters. Each variant cover is more striking and intense. What they all have in common, besides the detailed artwork is the uncanny way they bring out the narrative elements of Neil Gaiman's novel of the same name. As a book 'American Gods' is everything. It tells the story of Shadow and how he nearly gets consumed by the oncoming battle between the old gods like Odin and Thor and the new ones. Those new gods are dangerous. They won't settle for being worshipped. They seem instead to want your soul. In this new comic book version with a script by P. Craig Russell, as the protagonist Shadow is the everyman. He spends his time in prison trying figure out how to live a simple life. But he meets Lowkeye Lyesmith and that's the reader's cue to understand that Shadow will never have a normal existence. Not believing in the intangible from an early age shows how Shadow's faith was shaken. His world view is narrow in scope. However, more than anything he has to start believing in the unseen, particularly when a being with the head of an ox tells him to.
In the meantime it's tough to get worshippers. Reduced to turning tricks and recruiting neophytes, the gods and goddesses in this story are doing anything they can to survive. In this inaugural issue the reader is invited into a world of watered down immortals with the U.S. as a backdrop. What do Americans worship? Who are their alters built to? Perhaps it's that smartphone. But in times of flood or famine technology will mock you. Immigrants who took their beliefs with them when they arrived in places like New York and Indiana kept a touchstone with the ancient immortals, with the knowledge that these deities were mercurial. In Homer's ancient text 'The Odyssey' even with the goddess Athena's help it took the warrior Odysseus ten years to get back to his wife and kingdom. That doesn't include the ten years of the Trojan War. Still, Mr. Wednesday, Shadow, Lowkeye all play a part in this oncoming storm.
The book that has spawned an upcoming miniseries and now a comic is a phenomenon that forces you to look at what we deem most valuable. For the people who worshipped ancient Norse gods (Thor), Greek gods (Aphrodite) or lesser known immortals who if you prayed to them there was the idea that you would be provided with a good harvest or that baby you always wanted. But in the 21st century, the real question becomes what do you value?
The following two tabs change content below.
Donna-Lyn Washington
I've been the go-to person of obscure information that I've picked up from reading, watching movies and television and a fetish for 80's-90's music since I learned to talk. I enjoy the fact that for a long time I was the only one who knew that "Three's Company" was a rip-off of the British Comedy "Man About the House." Although I am knowledgeable on a multitude of subjects, my lisp and stutter would get in the way of my explanations and I could only save a dry-witty phrase for the written word – so I consider writing to be a path-working to fully express my ideas. Knowing the terror of formal writing, I currently teach at Kingsborough Community College in hopes of helping others overcome the fear that once gripped my heart as a speaker of words.