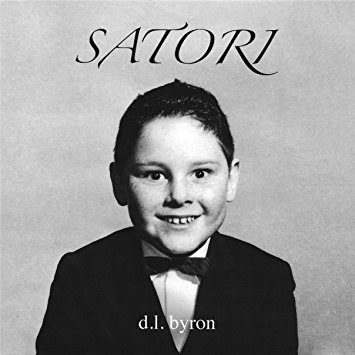 D.L. Byron has a long and storied history in the music industry. Paving a path for himself, staying true to his vision, and never letting major labels define his work for him. His latest effort "Satori," is a four-track EP that features powerful lyrics that criticize and critique society.
The first track, "No. 1 God," talks about society's idolization and deification of "false gods." The track is upbeat and crunchy, backed by in-your-face drums and growling guitar riffs. Thanks to Byron's witty lyricism and heavy use of metaphor, along with a dash of dark comedy, "No. 1 God," is like an onion, that with every listen slowly starts to reveal its inner layers. And when you finally do understand the most profound meaning of the song, it will bring a tear to your eye while you simultaneously chuckle at the irony of it all.
Track two on the EP, "Rehearsing For The Future," has a much more bouncy feel to it, while retaining the same in-your-face tone as "No. 1 God." The song is a dialogue between himself and his sub-conscious, talking about his experiences, some good, some bad. The track goes on about a past relationship of Byron's that ended poorly. "Hand me that olive branch, and I'll snap it right in half." is a quote from the song that perfectly sums up his feelings toward this scorned lover. The track evokes feelings of anger, but also a sense of loss. It's a track that clearly shows Byron's musical genius.
The penultimate track, "All Fall Down," would make bands like Bad Religion or Anti-Flag proud, talking about the daily struggle for any fraction of power that drives society, and the pointlessness of it all. The acoustic guitar along with harmonic backing vocals makes for a stark contrast between the dark subject matter of the lyrics and the upbeat, bright sound. It's by far the most cynical track on the EP.
"So come dance with me beneath the moon tonight, and we'll jump into my time machine. And travel back to another life, where we can live our dreams." The last song on the EP, "Everywhere I go," is an idealistic track, talking about Byron's desire to escape his everyday routine and the monotony of life. The song opens with some otherworldly pop-synth that is the perfect metaphor for the theme of the track. It's all about escaping to a fantasy world where nothing is stopping you but yourself. It's the most cheery track on EP, but cheery doesn't necessarily mean happy. The song is still rife with pessimism, but the pessimism and criticisms are disguised by the desire to get away from it all.
The veteran song writer's latest effort "Satori," is a wonderful thought evoking EP that only gets better with multiple listens. Byron unquestionably shows his lyrical chops, crafting songs with profound societal commentaries that are accessible and relatable to anyone and everyone. With a tenure of over thirty years in a business that can corrupt even the most admirable of artists, Byron managed to maintain his integrity. And he won't let the music industry change that any time soon.