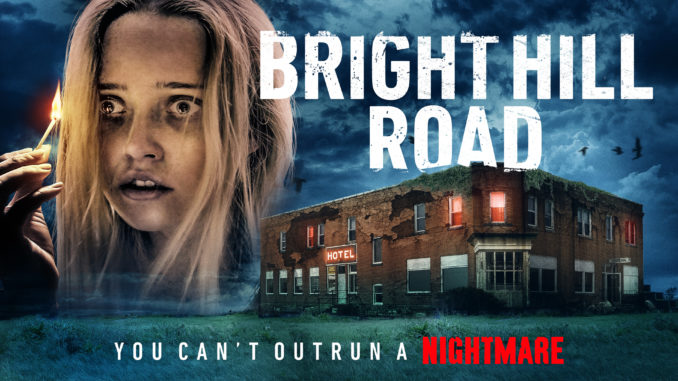 Review Fix chats with "Bright Hill Road" writer Susie Moloney, who discusses the film and what inspired it.
Review Fix: What inspired this?
Susie Moloney: You know what freaks me out? Aftermaths. After the thing that traumatized you, after the "thing" that happened is over, everyone goes home and you're left with the burden of carrying this monster around with you. Aftermaths are full of shadows and teeth, man. I had this picture of a flawed young woman who never has a chance to redeem herself because her horrible choices take her deeper into trauma. To me, that's a nightmare.
Review Fix: What is your creative process like?
Moloney: Everything, books I've written, screenplays, tv, it always starts with an image. In my first novel, Bastion Falls, my image was a middle-aged woman dipping a chipped coffee mug into a vat of home wine under her desk. Just like my grandpa used to do. In Bright Hill Road, my image was of a terrified young woman, hiding under a bland hotel bedspread, listening to someone bang at the door and trying to decide if it was really happening or not.
Review Fix: How is it different from the other things you've written?
Moloney: I swear this is the fastest thing I've ever written! I also feel like it explored that terrifying concept of unreliable memory in a way that I've not been able to. Imagine having memories, and not really knowing if they were real, or imagined. Or dreamed. It's not quite insanity, but it's enough to isolate you from yourself. What a horrible way to live.
Review Fix: What was it like to see it come to life?
Moloney: There's actually nothing harder, or more exciting, than watching people you've never met read words you wrote. It's a little like letting someone borrow your new car. You want to shout WAIT! But then you have nothing to say when they wait. It was, in other words, awesome.
Review Fix: What are your goals for it?
Moloney: The usual, an Oscar nom, a GG win, a truckload of cash, spot in the writers' room on Lovecraft Country 2.
I would like it to be understood. I can't say much more than that without giving things away–but I would like Marcy (our heroine) to be understood.
Review Fix: How would you like it to be remembered?
Moloney: As someone's favourite movie. I'd like it to be talked about, I'd like the ending and the motivations to be discussed over a nice bottle of plonk and maybe some crackers.
Review Fix: What's next?
Moloney: I have two written that will be produced I hope in 2021–one of which was postponed due to The Great Pause. I'm also writing another, something a bit different for me, a horror-comedy. I'll continue to work with Robert Cuffley for as long as he'll have me, and our next project is also with Colin Sheldon at Nevermine.
Review Fix: Anything you'd like to add?
Moloney: I'm always amazed a film's ability to scare the crap out of me, even if I've written it. I advise everyone to watch every movie, read every book, like a 12 year old. Especially Bright Hill Road.