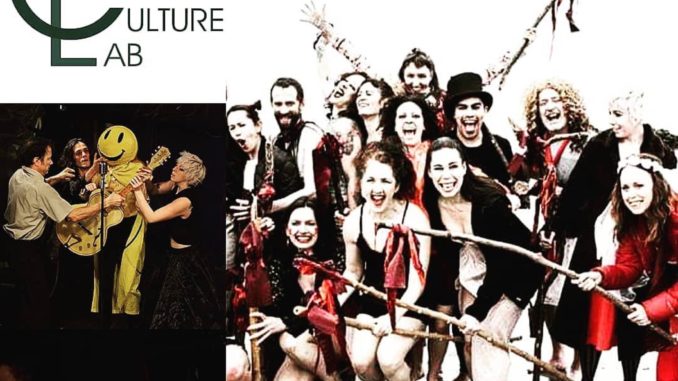 Review Fix chats with Nick Fracaro and Gabrielle Schafer who discuss why the Coney Island Ritual Cabaret Festival will be a special event.
About Nick Fracaro and Gabrielle Schafer:
NICK FRACARO (Co-Artistic Director/Dramaturg) was born and raised on an Illinois farm. In 1981 he co-founded and became artistic director of the cross-disciplinary precursor to ICL, Thieves Theater, for which he directed Peter Weiss' Marat/Sade at Toronto's Theatre Centre, Heiner Mueller's Despoiled Shore Medeamaterial Landscape with Argonauts and the world premiere of R.W. Fassbinder's Trash, the City and Death in New York, among many other projects, including ICL's Diva Divan. He was a founding member of RAT, an international coalition of theater workers dedicated to sharing resources and ways of working, for which he organized conferences in New York, Philadelphia and Rosario, Argentina. As dramatug at Dallas's Undermain Theater in 1999, he created one of the first theater blogs which he later continued at RatSass (ratconference.com/blog). He holds a BA from Illinois Benedictine College (IL) and an MA in Literature and Creative Writing from The University of Illinois at Chicago. Contact Nick at [email protected].
GABRIELE SCHAFER (Co-Artistic Director) was born and raised in Germany, educated and trained in theater in the US. In 1981 she co-founded ICL predecessor Thieves Theatre, which produced the world premiere of R.W. Fassbinder's controversial Trash, the City and Death in her translation. In Germany she has acted at Hamburg's Thalia Theater, Theater Rampe and Theaterhaus Stuttgart. Other theater acting credits include New York's Public Theater, Seattle's Annex Theater, the Wellington NZ and Los Angeles fringe festivals, and the Yale Repertory Theater. At ICL she originated the role of Kathleen in Outside Inn and Mother/Jackie in S/he. For a full acting resume please see her personal website at gabrieleschafer.com. She has studied Butoh since 2001, until 2007 was producer of the CAVE New York Butoh Festival, and she co-created ICL's Diva Divan. She holds a BA in Theater and Criminal Justice from the University of Illinois at Chicago, and an MFA in acting from the Yale School of Drama. Contact Gabriele at [email protected].
About the Coney Island Ritual Cabaret Festival:
The Ritual Cabaret has – for half a decade – set out to invent a new genre by re-inventing those in our present psyche.
Each year, the Festival performances inspire and evolve the aesthetic "ritual cabaret." Before downloading the application, we encourage you to read this short synopsis (http://intlculturelab.org/index.php?g=ritualentertainment) of their collaborative search to help guide your proposal.
The history of the Festival is informed by dancer/choreographer Tatsumi Hijikata who originated butoh in 1950's in an effort to defy and subvert authority, including conventional notions of dance, thereby seeking transformation – on the personal, societal and political level. It is no coincidence that this is around the time of the legendary Off-Off Broadway Movement in NYC.
Review Fix: What was your inspiration behind this project?
Nick Fracaro: Butoh (舞踏, Butō) is a form of Japanese dance theatre that encompasses a diverse range of activities, techniques and motivations for dance, performance, or movement. Following World War II, butoh arose in 1959 through collaborations between its two key founders Tatsumi Hijikata and Kazuo Ohno. Common features of the art form include playful and grotesque imagery, taboo topics, and extreme or absurd environments. Butoh groups are increasingly being formed around the world with various aesthetic ideals and intentions. While there is no consensus on how to define it, it is agreed that the primary aspiration of butoh is transformation – of the self, of society, of humanity.
The Festival's primary inspiration derives from butoh's genesis in Tokyo's cabaret and underground avant-garde arts scene in the 1960's. During the day, Hijikata trained his dancers in exercises and techniques of the new dance genre he was inventing. At night the same dancers then experimented with bringing their exploration into the competitive marketplace of cabaret/burlesque.
This hand-in-glove development of high and low art forms is the impetus for our explorations into what we call Ritual Cabaret at our site-specific location in Coney Island. We have fused our butoh study with our thirty-five year history of producing at the arts organization Coney Island USA (most celebrated for its annual Mermaid Parade), whose mission is as follows:
"…exploring American popular culture through innovative exhibitions and performances… our approach is rooted in mass culture and the traditions of P.T. Barnum, dime museums, burlesque, circus sideshows, vaudeville, and Coney Island itself."
Review Fix: What's your creative process like?
Gabrielle Schafer: We are challenging artists to deconstruct and reinvent their particular art form, whatever it might be, and to collaborate in inventing a new genre of performance whose goal is transformation: Ritual Cabaret.
Ritual (sacred) and Cabaret (entertainment) performance may be depicted as binary as in the chart, but we petition artists to consider them as dancing partners in a spectrum that meld the aesthetic and ritual qualities of each.
We work with artists, exploring with them what they traditionally perform, and then re-examining/deconstructing that routine with the "ritual cabaret" aesthetic in mind. So for example, butoh artists are practiced in ritual and are asked to explore the entertainment qualities of cabaret, whereas sideshow or burlesque artists are practiced within cabaret entertainment and are asked to examine where ritual can enter their performance.
Review Fix: What did you learn/are learning about yourself through this process/production?
Schafer: We've asked a question that is not readily answered: What is ritual cabaret, two words that are ostensibly an unlikely juxtaposition. Through the years (this is the 5th iteration of CIRC), the Festival performers themselves inspire and evolve the aesthetic through their inventiveness, daring and willingness to dive deeply into the conundrum. We learn again and again that artists and art itself are at their most evocative and inspiring when rising to the occasion of contemplating challenging questions (versus falling back on the tried and true).
Review Fix: What are your ultimate goals for this for the future?
Fracaro: In its first year, the festival was called "Coney Island Butoh and Theater Festival." In this second year we wanted to open it up to other disciplines and called it "Coney Island Butoh and Beyond." It was in the third year that we settled on "Coney Island Ritual Cabaret Festival." Each year, the festival has captured the imaginations of an ever-wider circle of both performers and audiences. We would like the Festival to become coveted and well-known in its current location. We wish to bolster our partnership with Coney Island USA (CIUSA), an arts organization we have a decades-long history with. We believe CIUSA's mission and its venue are the perfect home for our festival. We love the intimacy it offers, the family feel. We have found that people are starved for community and a sense of belonging, that they want to be spoken to directly and personally. As we continue to define this unique aesthetic, we are also aspiring to expand our community of performers and celebrants of ritual cabaret.
Review Fix: What's next?
Next for the Festival: CIRC Festival's partnership with CIUSA offers many possibilities. Last year we began exhibiting visual art in the Freak Bar and Gift Shop walls. We had an opening and closing ceremony on the beach. We transformed the theater space itself into an immersive experience for the audience, inviting them to attend "dressed to impress" and offering Kristopher Johnson's Pop Up Portrait Studio to share their experience with friends. Beyond enhancing each of these expansions, this year we will also offer butoh and burlesque workshops. We have begun soliciting academics to write on ritual cabaret and to participate in a panel discussion to be convened at the Coney Island Museum on how the aesthetic interfaces historically with "America's Playground."
Next for International Culture Lab: 2020 marks the 30th anniversary of one of our most prominent projects, The Living Museum of the Nomad Monad, a public-art project that became eminent in New York City. Recently, NYU's Fales Library has offered to digitize and archive the prodigious documentation surrounding the work; and we are working with prominent documentarians to publish the memoir of that project in various formats – book, feature documentary, feature film, podcast. Click here for background and a summary.