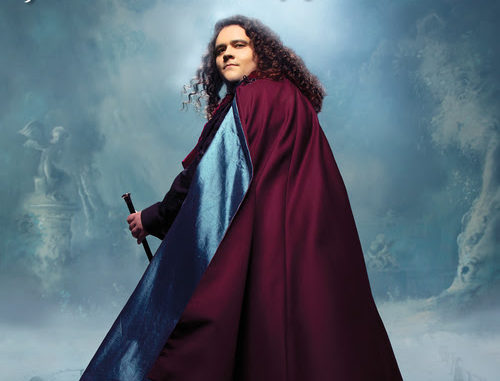 Review Fix chats with UK Tenor Jonathan Antoine (known for his amazing performance on Britain's Got Talent a few years ago), who discusses his new Christmas album, his career and his future, as well as his favorite video games.
Review Fix: How did you get involved in music?
Jonathan Antoine: I've always loved music itself, when I was 5 years old I'd dance in the living room/lounge to the freshest pop hits of the year 2000! That in a sense was my induction into the art itself, but in many ways it has been something boiling away in me waiting for an outlet. As a teen I fought my hardest to make music something I could do as a career. I auditioned for the junior branches of the 4 conservatoires in London and was accepted by each, and was selected to sing a solo at the Royal Festival Hall, a couple of moments that really made me feel as though I could do something with all of this. 
Review Fix: How did Britain's got Talent prepare you for the future?
Antoine: It set the foundation for everything that would come after it. Frankly at the time it was a crash-course in reality itself, I learned to open my heart to wonderful people and avoid others at all costs. The duality of man was wide open in front of me, a cornucopia of different lives and experiences culminating in only a few minutes of air-time. I feel as though there are lessons I'm still learning from that experience, almost a decade later.
Review Fix: What are the biggest lessons you've learned since then?
Antoine: Things change, and that's ok. Don't fear that.
Review Fix: What do the holidays mean to you?
Antoine: Togetherness with family and friends, some really good turkey, and hastily trying to find presents that the people closest to me might actually like!
Review Fix: What's your creative process like?
Antoine: Creative Process? I thought the only thing I was supposed to  create was a lot of noise! In all seriousness though repertoire selection is mostly through back-and-forth emails and spreadsheets, trying to keep the data as easy to understand as possible and reach a solid track-list. I usually come in with a pretty strong idea for what I'd like and the other creatives on the team pitch in theirs. From that point we have to do at least 1 in person session to find the correct keys, which usually just entails running through the songs in a few keys with vocals and piano. Things don't usually change much after we've decided the track listing itself, any song can work for any person so long as it's in the right key!
Review Fix: What inspires you?
Antoine: Existing on a planet filled with other people. The fact that even if I cannot meet every person who is alive today, I can trust that most of them are good people living a complex and beautiful story is more inspiration than I think any person could want for. 
Review Fix: What does music mean to you?
Antoine: It is the reason that I live and breathe. It is the labour that I have put every iota of myself into without one ounce of restraint. Music is a beautiful, twisted addiction that I never want to let go of. I love music, and love is complicated!
Review Fix: How would you describe your sound to someone who has never heard you?
Antoine: I think I would try to avoid it at all costs! My own perceptions differ wildly from day to day, and so I generally stick to the absolutes – facts that I can state without ambiguity. This mostly amounts to me saying I am a "Classical Crossover Singer", which itself may not even be strictly true!
Review Fix: How are your live shows different from your studio work?
Antoine: I don't personally think my voice translates particularly well across recordings, and think that generally those who have come to see my concerts agree. In the studio I try to create something that is reproducible for live shows, and in live shows I feel I can take the risks that I never would on a recording.
Review Fix: What inspired your latest single?
Antoine: Diane Warren allowed me to sing the wonderful song 'These are the Special Times' for this album, and to have it translated into Italian by Marco Marinangeli just took it to a whole new place
Review Fix: What is your favorite video game?
Antoine: For the storyline, 'Titanfall 2' (I cried at the ending!!). For how many hours I've put in probably 'Terraria'. Though I've dumped several hours over the past few months into the game 'Among Us', which is a spectacular game to play with a few friends – particularly being that we've not been able to meet face-to-face!
Review Fix: How does it feel to do a holiday album?
Antoine: Surprisingly different from doing a non-holiday album actually. I feel my general vocal approach was a fair bit lighter and more easy-going or loungey for this particular project purely because that approach is what fits the majority of the material – I think we've all heard the strange things that can happen when we try and over-classical-ify these crooner classics!
Review Fix: What are your goals for 2021?
Antoine: Precisely the same as it has been every year since 2012: Total World Domination!! Haha!
Review Fix: What's next?
Antoine: I want to get back out in front of audiences as soon as it's safe to do so. 2020 has been wholly unprecedented, and I can't imagine that 2021 is going to be a cake walk, but I want to make it through with the wonderful people who have supported me and walked alongside me thus far. 
Review Fix: Anything else you'd like to add?
Antoine: Please take care of one-another.