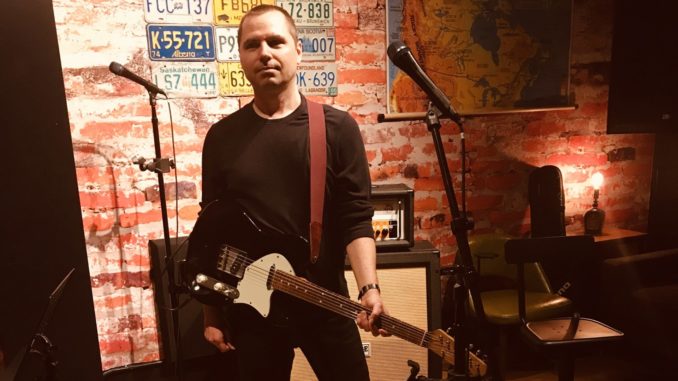 Review Fix chats with Austin John's Todd Austin John Elsliger, who discusses the group's origin, influences, creative process, goals and new track, "The Better Way Back When."
Review Fix: How did you get involved in music?
Todd Austin John Elsliger: As a child I was fascinated with the handful of records in my parent's vinyl collection (ABBA, The Beatles, Barbra Streisand). At 9 I became infatuated with the movie/television series Fame and took jazz ballet lessons. At age 13, my high school English teacher George Wall offered me guitar lessons. He was highly influential and I became so infatuated that I did 9 years of post high school music education. Now I am simply not qualified to do anything else.
Review Fix: What's your creative process like?
Elsliger: I spend approx. 2 years between albums learning as much new information about music as possible, until the itch to put those skills into context comes around. Then I turn on my inspiration radar and spend countless hours sitting in a quiet room with a guitar and a notepad thinking that I may never write a new song again. Then ideas start to form and I hate them until I finally start liking them and a song is created. I do that ten excruciating times until the album is written about 6 months later. Then I call up the band mates to start rehearsing/arranging and ultimately recording.
Review Fix: What inspires you?
Elsliger: The perfect symmetry of a melodic bass line; a drummer's groove as it deepens through a song, the guitar and keys bouncing off each, diving in and out of focus, the sound of a singer saying the word "please" on the #11 of a major chord. These things make me very emotional and I'm addicted to that feeling. I am compelled to try to create those moments in unexpected ways; to say something about the human experience musically and lyrically that is just a little bit unique; to create layers of meaning and textures that warrant repeat listens.
Review Fix: What does music mean to you?
Elsliger: It is the means of learning about myself and the world around me that I enjoy the most. It gives all the highs and lows of life a beautiful context that I can manage.
Review Fix: How would you describe your sound to someone who has never heard you?
Elsliger: Let's see if I can do this without just naming some influences.. Nope, I can't. Prince, Elvis Costello, Prefab Sprout, Wilco, Joni Mitchell, Steely Dan, The Beatles, Abba, Kathleen Edwards, The Replacements, TPOH, Lou Reed, XTC, Bob Welch, Steve Earle, The Band, Elliott Smith, Silver Seas, Tears For Fears, Motown, Van Morrison, Belle And Sebastien etc..
Review Fix: How are your live shows different from your studio work?
Elsliger: Our albums have more tracks per song than there are people in the audience at our live shows.
Review Fix: What inspired your latest single?
Elsliger: Many of the songs on our new album deal with nostalgia in some way. This was unintentional, but track 3 The Better Way Back When seemed to fit well as an album title. Maybe this style of "live instruments" music is currently waning in popularity; and those who practice it are getting older and reflecting (lyrically) on the subjects that concern us. I find myself somewhat concerned that 14 year olds don't think I'm cool anymore, but don't seem to care if they like my music or not.
Review Fix: What are your goals for 2021?
Elsliger: I would certainly like my music to reach more people who enjoy it (www.toddaustinjohn.com); but mostly I'm just addicted to continually learning about music/guitar/myself/others.. same as every year.
Review Fix: What's next?
Elsliger: I'll continue to beg people to listen to this album in my haphazard way until I get annoyed of myself. Then I'll spend a few years practicing and writing/playing on other projects until song ideas start to keep me up at night. Then I'll start the process all over again, with all the ecstasy and heartache it entails.
Review Fix: Anything else you'd like to add?
Elsliger: I know music played a meaningful role in so many of my generation's upbringings. I hope we don't completely lose touch with that in exchange for wipeout videos on Youtube, reruns of sitcoms on demand and a constant bombardment of what everyone is doing at every single moment. I for one still live for the magic of hearing a new song that gives me goose bumps, makes me want to dance, makes me so angry I want to cry or teaches me something about the human condition. It is such a beautiful art form.