This Week in Comics- Episode Eight: Villains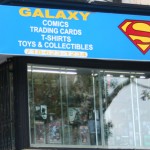 This week, the guys talk about villains.
Yes, the bad guys.
The ones they love, hate and even the good guys that straddle the line between hero and villain every day.
Good stuff guys, good stuff.
If that doesn't tickle your fancy, check out some of our older episodes, here.
For more information on Galaxy Comics III, you can go to their Facebook page here or call them at 718-623-1234.
They also have two other stores- Galaxy I is located at 429 5th Ave, (718) 499-3222 and Galaxy II is in Bay Ridge at 6823 5th Ave, (718) 921-1236.
You can also e-mail them at GalaxyC429@yahoo.com.
Photos by Ron Hatcher.
Leave a Response