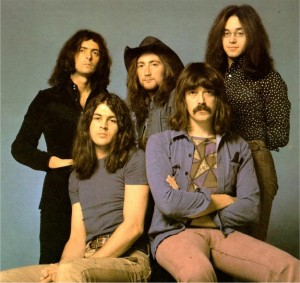 Deep Purple is a seminal classic rock band that had several line-up changes, but has never failed to maintain musical excellence, integrity and virtuosity in any period of its existence. The band, credited with creating Heavy Metal in 1970 ("In Rock") along with Uriah Heep ("Uriah Heep") and Black Sabbath ("Paranoid"), has released "History, Hits and Highlights 68-76," which features four different versions of the band spanning its most productive and musically inspiring period.
This double DVD, which runs for four hours and 47 minutes, is a Deep Purple fan's fantasy come true. Trolling vintage live concert performances, obscure videos, documentary footage, interviews, studio sessions and television appearances, the collection is an exhilarating journey of musical sights and sounds. It clearly shows how each of Deep Purple's ensembles had musical relevance, expert musicianship and popularity among its loyal and fervent fan base.
The DVD displays four incarnations of Deep Purple in all their glory. This collection starts with the Mark One line-up, previously called Roundabout, featuring Rod Evans on vocals, Ritchie Blackmore (guitar), Nick Simper (bass), Jon Lord (keyboards) and Ian Paice (drums). This edition of the band is often looked at as a footnote in the band's history instead of a glorified era. They released "Shades of Deep Purple"(1968), "Book of Tallesyn,"(1969) and "Deep Purple" (1969) and were together from March 1968 to July 1969. They are featured performing "And the Address" and "Hush," one of their early hits on Hugh Hefner's "Playboy after Dark" show. It is quite a kick to see Playboy magazine's founder smoking his pipe  and exhorting his minions (including his girlfriend,  later on, Barbi Benton) to dance along to the band's songs. Vocalist Evans' wearing lame, gold pants is a signpost of the late 1960s."Wring that Neck," an amazing instrumental, is another musical highlight.
Even at this early stage, the musical brilliance of founding members Lord, Blackmore and Paice is quite apparent. Another rare nugget on the DVD is Mark 1's rendition of the Beatles' "Help," that is a tribute to the original, but takes the song to new undiscovered territory.
The Mark 2 lineup (July 1969 to June 1973) replaced lead vocalist Evans with Ian Gillan and bass player Simper with Roger Glover. Most Deep Purple fanatics consider this grouping their favorite lineup (though there are some arguments). They are responsible for the albums: "In Rock,"(1970) "Fireball," (1971)"Machine Head"( 1972)  and "Who Do We Think We Are,"(1973)  which include the band's "Smoke on The Water," "Highway Star" and Woman from Tokyo," plus a slew of lesser known progressive, neo-classical proto-metal classics.
Their "Made in Japan" album (1973) is a landmark live release and "Deep Purple- the Royal Philharmonic Orchestra Conducted by Malcom Arnold" (1970) is an ambitious merging of the classic rock and orchestral world. This aforementioned lineup makes up the lion share of the DVD's running time. Their performance of the earlier lineup's "Mandrake Root," a rarely heard Deep Purple nugget, is breathtaking.  Blackmore's fret board "acrobatics" and Paice's machine-like drumming make this performance alone worth the price of the DVD. The "Speed King' video is surreal, complete with ghost-like figures in various poses in front of a seemingly catatonic audience.
There are appearances included on a German television show, "The Beat Club" ("Highway Star"), a Denmark concert performance ("Lazy"), a stirring "Smoke on the Water" rendition from ABC's "In Concert" at Hofstra University and a "Fireball" writing session, all featuring the band's second lineup, on this release. "No No No" and "Demon's Eye," two of Deep Purple' most underrated songs, are high points. Disc two contains a wonderful virtuosic performance of "Wring that Neck" that displays all the members' musical ability, and makes a case for them being the most musically expert classic rock band ever. The interplay between Blackmore's "Bolero" and jazzy guitar explorations and Lord's Hammond B-3 classical-rock sound is incredible to witness. Bassist Glover shows why he is indispensable and left-handed drummer Paice demonstrates why he ranks with John Bonham (Led Zeppelin), Keith Moon (The Who), Carl Palmer (Emerson, Lake and Palmer) and Ginger Baker (Cream), in terms of playing ability.
The Mark 3 lineup (June 1973 to My 1975) came about after Gillan and Glover left the band and 22-year-old lead singer David Coverdale and ex-"Trapeze" bassist-vocalist Glen Hughes replaced them. "Burn," from the album of the same name, "Mistreated "(at the California Jam) and Space Truckin' are featured on the DVD along with some excellent interview footage of Jon Lord and newcomer Coverdale. This lineup had the advantage of having dual vocalists in Coverdale and Hughes. Hughes recently played B.B. King's and Coverdale is touring with Whitesnake and performed at Jones Beach on Sunday, July 12.
The Mark four lineup (June 1975 to March 1976) saw Blackmore leaving the band and guitar wunderkind Tommy Bolin replacing him. The only American in the band, Bolin had an early band called "Zephyr," played guitar in the James Gang (post Joe Walsh) and played on Jazz drummer Billy Cobham's "Spectrum" release. Bolin, who died tragically at the age of 25 due to drug addiction, could do almost anything on the guitar and be equally comfortable in the jazz or rock world. Replacing Blackmore was not an enviable task, but Bolin, still an underappreciated axe slinger, was a natural replacement.
A revealing New Zealand interview features Bolin and his statement "Six months before I joined (the band), I was starving."  "Come Taste the Band, " featuring Bolin is one of Deep Purple's finest albums. Mark Three's "Love Child" and "You Keep on Moving" are featured on the DVD.
One minor complaint about this DVD set is that the Mark three and four lineups are not given enough attention. This is probably because most Deep Purple fans consider the Gillan led group as the quintessential Deep Purple lineup. Though that might be true, the other equally talented groupings are top notch in terms of musical chops and writing ability. The other small bone of contention with the DVD set is that some performances' locations and dates are not identified. This is a huge shortcoming for the Deep Purple fanatic who studies concert clips like a textbook.
On a positive note, the booklet included with the set has pictures of ticket stubs, excellent archival photos, sheet music covers and 1970s clippings from newspapers (including the headline: "Who will be Deep Purple's New Voice?"). The stubs are particularly interesting to peruse and see who Deep Purple shared the stage with (Bad Company, Yes, the Nice and Nazareth to name a few) in their heyday.
Overall, "History, Hits and Highlights 68-76"will not disappoint the Deep Purple die-hards and will enthrall newcomers to the band. This double DVD offering reaffirms Deep Purple's place in the Pantheon of classic rock greats and they do not take a back seat to anyone. A major debate in the '70s would always pit Deep Purple's musicianship against Led Zeppelin's. This set will demonstrate that Lord, Gillan, Blackmore, Paice and Glover are musicians' musicians and rank with any band who ever graced a stage. They are one of the most popular classic rock bands of all time, but somehow also quite underrated and under-appreciated. Pick up this new video release and travel back to the late 1960s and 1970s and witness classic rock history.