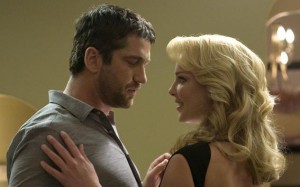 The last thing you'd expect in a romance comedy with Katherine Heigl and Gerard Butler is obsessive vulgarity, but that's exactly what's present in "The Ugly Truth." While the majority of it is funny and outrageous, much of it feels out of place and hurts an otherwise enjoyable, yet predicable movie experience.
As adorable as Heigl is as TV producer Abby, some of her scenes feel forced and she's not as solid as she was in films like "Knocked Up." A woman, that despite her good looks, can't find a man, mostly due to her controlling tendencies and insistence on perfection, Abby is in desperate need of a wake-up call. Nevertheless, her quirkiness is a treat and something that the film could have built off of more.
Sure, this is a coming of age film, where Heigl changes herself for a man, before realizing she's got to change for herself, but seeing her use the work "cock" five or six times in a minute during this transition isn't funny- it's obsessive and raunchy for the sake of being obsessive and raunchy.
"The Proposal" this is not.
The problems with the dialog hurt the film, but the plot is haphazard as well, creating a one-two punch that regulates the film to the mediocre. Predictably, it's not too long after a bad date that Mike, played by Gerard Butler comes along and rocks Abby's world with his potty mouth and complete opposite thinking when it comes to relationships. Hurt in the past, Mike has given up on love and is now the host of a small local cable access show where he vents his frustration on the opposite sex.
If this doesn't smell cookie cutter yet, then you've never been in a bakery before.
Strangely enough though, this persona is a perfect fit for Butler, who in spite of battling his accent at times, is great as the macho dude with the heart of gold. The problems with the script and plot development don't damper his star presence as much as they do Heigl's, who isn't in her element. It's Butler's performance that makes the film a decent comedy despite how good Heigl looks throughout. Unlike her, Butler's vulgarity is smirk inducing, as he does well as a man that says what ever is on his mind when it comes to women and draws plenty of laughs throughout the film.
As a pair, the two are adorable and make the film a fun little escape, but it's too flawed overall to be something special. The supporting cast is filled with solid actors the likes of Cheryl Hines, Bree Turner and John Michael Higgins, but it's not enough, as everything just seems to fall into its pretty little place and everything works out in the end.
In the end, it's like a cross between "The 40-year-old Virgin" and "Knocked Up," without the sexiness and unpredictability that made them both excellent rom-coms.
While it's fun for a date movie and will create several attempts to throw your arm around your mate or squeeze their hand in laughter, as a film for a serious movie-goer, it's undoubtedly passable. Two good-looking people and a workable supporting cast can't make up for such a generic and linear script.
Not even Heigl's hilarious dance moves can do that.
Truth be told, this is a a masterpiece of semi-disappointment.
The makes of a phenomenal cast with only a few good laughs are present, but lack the depth and polish to make the most of things. Heigl's character, Abby was beautiful and successful, but terrible at relationships. [Big shocker there.] Instead of charming, her quirky behavior wasn't as endearing as one would hope. Her opposite and very much charismatic male counter-part, Mike [Butler], was the savior of this over-the-top rom-com. His misogynistic opinions and scruffy good looks would make anyone love and hate him all at once. This somewhat saves the film, but again it's lacking in too many other areas.
If you're good at predicting plots [heck, even if you're not good] you'll surely feel like an expert on this one. The script was stale though raunchy, or maybe the delivery was just off. Despite this, Heigl has never looked better. Hopefully her next attempt is for the better.
-Sherrie Ocasio