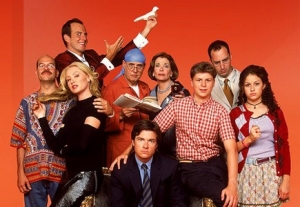 The entire cast of Arrested Development—Jason Bateman, Will Arnett, Jeffrey Tambor, Portia de Rossi, Michael Cera, David Cross, Tony Hale, Alia Shawkat and Jessica Walter—are all replaying their roles in the Bluth family for the much anticipated series revival, according to writer Dean Lorey.
"We're really doing this thing," Lorey wrote on his blog. "Mitch Hurwitz, Jim Vallely and I are off writing the new season of Arrested to premiere on Netflix in 2013."
The production has also begun, although the schedule is highly secretive which Lorey hinted at by saying, "There are offices and parking spaces."
The plans were announced in October during the New Yorker Festival, detailing the ten new episodes followed by a feature film. Netflix quickly joined in on the fun, making the episodes available exclusively through them.
"Arrested Development is one of the finest American comedies in TV history, and its return through Netflix is a perfect example of how we are working closely with studios and networks to provide consumers with entertainment they love," Ted Sarandos, Netflix's chief content officer said this November in a public statement.
As if this news wasn't awesome enough—actor Adam Scott recently confirmed a Party Down movie was in the works. It appears like 2013 may turn out as the year for cult classic comebacks.
This article can also be read on AllMediaNY.com