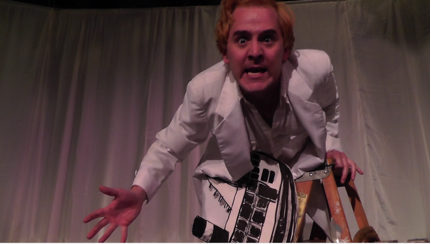 Written & created by Buran Company
In 1979 director Werner Herzog and his megalomaniac best fiend, Klaus Kinski, pulled a 300-ton steamship over a mountain under its own steam. In this highly theatrical performance work, the performers, taking on the role of the Collective Ego of Herzog & Kinski, ponder the significance of dreams and the insanity one must invest in pursuing the useless conquest of unconscious wishes. Pulling and culling from a myriad of source texts, videos, and dreams, Buran uses its distinctive style to situate itself between high and low culture – creating mayhem, shooting cap guns, prompting sing-a-longs, and integrating a folksy existentialism to explore our nature as beings who cannot help but desire our own dumb dreams.
Directed by Nikolas Weir
Scenic & Lighting Design by Nick Kostner
Music by Christopher Luxem & Casey Mraz
Lyrics by Henry Bial & Adam R. Burnett
Performed by Henry Bial, Adam R. Burnett, Jud Knudsen, Hilary Kelman, Christopher Luxem, Geraldo Mercado, and Casey Mraz.
Performances March 7, 8, 9, 10, 11, 15,16, 17 at 8pm All tickets: $18
Only at The Brick, 575 Metropolitan Avenue, Williamsburg, Brooklyn
All tickets available at www.bricktheater.com or by calling Theatermania (212-352-3101)