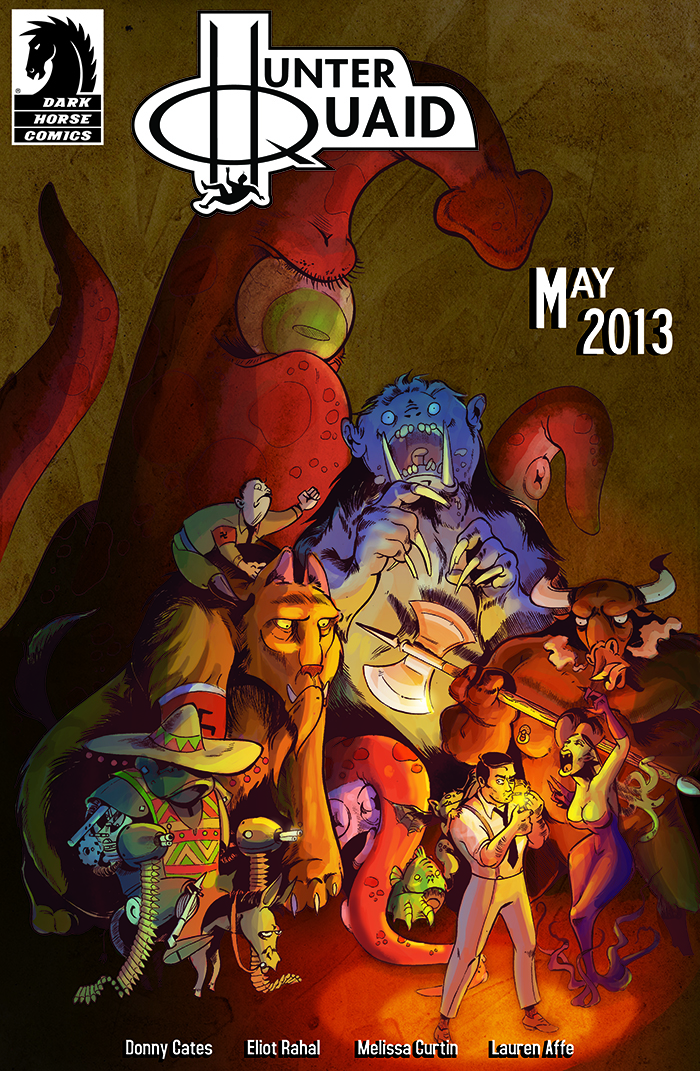 From an elevator pitch at Comic-Con to the pages of comics' greatest anthology, writer Donny Cates and comedian Eliot Rahal are making their Dark Horse Presents debut with Hunter Quaid!
Hunter Quaid is a drunken, misanthropic, time-traveling detective from the forties, but that's not all! As we follow Hunter on his journeys, we find that not all is as it seems, and sharp-eyed readers will find hidden clues to the book's needlessly elaborate, totally awesome secret . . . !
"The book is a ton of fun, something that Eliot and I feel is missing from a lot of modern comics. We couldn't be more excited to begin our story in the Eisner Award–winning Dark Horse Presents. It's an honor," stated Donny Cates.
Hunter is not the classic story of a perfect hero, but no matter what, when the chips are down and the world is about to end—Quaid is all we got, and all we need.
"Donny and I love comics; they have the amazing ability to embody positivity, and that's really what Hunter is about. We were just two desperately alone, and drunk, strangers who became best friends that wanted to write a funny, real, and inspiring character," Eliot Rahal explained. "Hunter is a labor of love and would be nothing without the uncanny conceptual art of Melissa Curtin, and the deadly color work of Lauren Affe; we are all so honored and thrilled for Hunter to have found his first home at Dark Horse Presents."
Follow Donny & Eliot on Twitter: @DonCates / @EliotJamesRahal
Catch Hunter Quaid appearing in Dark Horse Presents #24, on sale May 22, 2013!
About Dark Horse
Founded in 1986 by Mike Richardson, Dark Horse Comics has proven to be a solid example of how integrity and innovation can help broaden a unique storytelling medium and establish a small, homegrown company as an industry giant. The company is known for the progressive and creator-friendly atmosphere it provides for writers and artists. In addition to publishing comics from top talent such as Frank Miller, Mike Mignola, Neil Gaiman, Brian Wood, Gerard Way, Felicia Day, and Guillermo del Toro, and comics legends such as Will Eisner, Neal Adams, and Jim Steranko, Dark Horse has developed its own successful properties, including The Mask, Ghost, Timecop, and SpyBoy. Its successful line of comics and products based on popular properties includes Star Wars, Mass Effect, Buffy the Vampire Slayer, Aliens, Conan, Emily the Strange, Tim Burton's Tragic Toys for Girls and Boys, Serenity, and Domo. Today Dark Horse Comics is the largest independent comic book publisher in the US and is recognized as one of the world's leading publishers of both creator-owned content and licensed comics material.