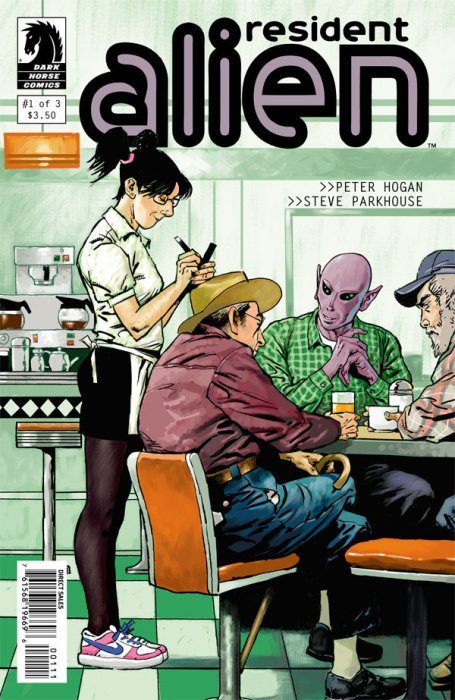 With an earnest and inquisitive writing style and fantastic artwork that captures the variety of emotions conveyed, Peter Hogan and Steve Parkhouse's Resident Alien: Welcome to Earth is a wonderful surprise.
Visually striking and written almost like a television sitcom, it's easily approachable and quick to get you hooked. Simply put, don't be surprised if this series ultimately finds itself on television or on the big screen.
When alien "Harry" accidently finds himself stuck on Earth, he tries to make a life for himself. Armed with an ability to hide his appearance, he finds a home in seclusion, AKA the small town of "Patience." After being left alone for nearly three years, the last thing he expected was to become the town doctor. But after the town doctor is mysteriously killed, Harry has to take the job to keep the town from inquiring more about him. Ironically Harry ends up enjoying his time with earthlings and finds a new home. But when a murder mystery rears its ugly head, legs and other appendages, Harry becomes an investigator of sorts.
A damn good one. Almost too good.
Harry's ability to see through the imperfections of humans is a fair comparision of Hogan's ability to see into the minds of his readers. The writing style in the trade is silky and smooth. Hogan makes Harry personable and the inhabitants of the small town friendly and inviting. After the first ten or so pages, you'll be hooked. It's almost like hanging out with an old friend. With its quick and engaging pace, it feels like an old episode of "Columbo" with splatters of "Dexter" and the cult classic Fox sitcom "Alien Nation." It's not usually the case that the outsider in a detective tale is the "good guy," but Hogan embarks on the non-traditional plot and makes it work by making Harry believable, quirky and not ironically, human.
The same thing can be said for Parkhouse's visuals. Reminiscent of the "Toxic Avenger" and "Ghost Rider" comics of the early '90s, Parkhouse has a style similar to Todd McFarlane and Greg Rucka. The way he captures Harry's facial expressions is a huge reason for the success in the trade. Regardless of what Harry looks like, he is one of us. He feels and sees things for what they really are though, a trait many humans can and never will have. It's easy to envy him, but it's just as easy to feel his plight. He's an outsider. He wants to go home. Parkhouse's job of making the weird and unknown somehow relatable is no easy task. He makes it look easy.
Inviting, charismatic and divinely human, "Resident Alien" is one of the best new comics out today.