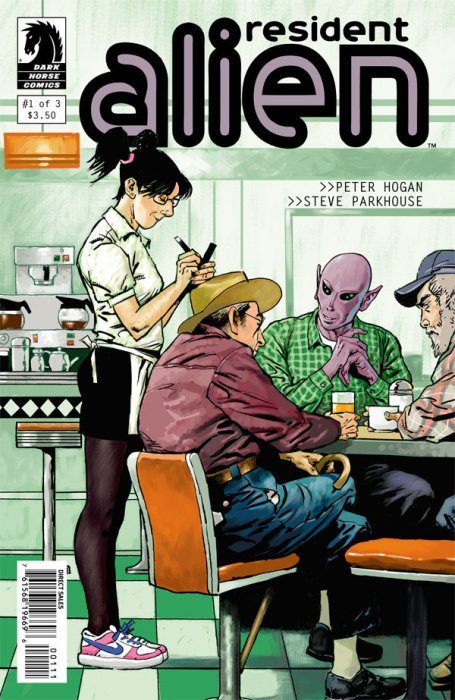 Review Fix chats with "Resident Alien" creator Peter Hogan, who discusses the series and how he wants it to be remembered. Visually striking and written almost like a television sitcom, "Resident Alien" is easily approachable and quick to get you hooked. Simply put, don't be surprised if this series ultimately finds itself on television or on the big screen.
Review Fix: What was the inspiration for the series?
Peter Hogan: It really came about because I wanted to work with Steve again. We'd done several stories together years ago for The Dreaming, Vertigo's spin-off series from The Sandman, and we always worked well together. Plus, I just love Steve's artwork. Anyway, Steve wanted to do something involving aliens, and this is what I came up with.
I was just tired of the idea of aliens always being the bad guy, so I thought I'd try doing the opposite – just have him be someone who's stuck here, who basically wants to go home again, but is trying to make the best of his situation. I suppose the main influences were probably The Man Who Fell To Earth, and the old My Favorite Martian TV show … plus a zillion TV detective shows, of course.
Review Fix: What was your childhood like? Did you live in a small town like Harry?
Hogan: No, I'm a big city boy, though I grew up in the suburbs. But about four years ago I moved to a small town, and I was really struck by the differences. Where I live now people smile and say hello in the street, and thank the bus driver when they get off the bus, that kind of thing. It's a much slower pace of life, and a nicer one.
Review Fix: How would you describe the series to someone who hasn't read it?
Hogan: Well, it's been called a sci-fi murder mystery, and I suppose that kind of sums it up … though I'd like to think there's more to it than just that.
Review Fix: What comics and other media did you absorb as a kid? How do you think it influenced this comic?
Hogan: Oh, I've always loved comics, and TV and movies, and I guess to some extent I've been influenced by everything I've ever read or seen. The only thing I can specifically think of is that I talked to Steve quite a bit about Harry's 'look', because I loved the way that aliens looked in the DC comics of the early 1960s – the Legion's Chameleon Boy is an obvious example, but their whole line was full of them back then, in things like Mystery In Space and My Greatest Adventure … or was it My Strangest Adventure? Anyway, those aliens were fun, and I wanted this to be fun too.
Review Fix: What's your favorite moment in the series and why?
Hogan: Probably some stuff that nobody's seen yet, so I'm not going to spoil the surprises ahead. In the first series, I like the part where Harry's looking up at the night sky and wondering if he's ever going to get home again, because it's not a feeling he can ever share with anyone else. Except the readers, of course.
Review Fix: Are there plans to continue the series?
Hogan: Sure. Dark Horse Presents has already run the first 24pp of the second series, which is called The Suicide Blonde. Those pages will be reprinted to kick things off when the series starts properly in July (I think). The third series is already written, and Steve will be starting work on that as soon as he wraps the second one up. We'll be around for quite a while, if all goes well.
Review Fix: Any ideas on moving the series to television?
Hogan: It's under discussion, but that's all I can tell you.
Review Fix: What do you think you learned while putting this series together that you think can help you moving forward?
Hogan: We had some great editorial advice from Mike Richardson right at the start, which really helped set the tone. Other than that, you always learn as you go along, but this time was very different for me, because it's really the first major thing I've done that's totally mine.
In some ways it's a lot easier to write established characters. When I wrote Batman or Captain America or the Sandman characters, I already knew who they were, because I've read them for years. But with Harry I'm still finding out every day who he is, and who all the other characters are too. Remember, from Harry's perspective, it's everyone else who are the aliens … and the supporting cast are a BIG part of the story, as you'll see.
Review Fix: How do you want the series to be remembered?
Hogan: In a perfect world, as a 21st century classic. Actually, I'm just trying to write the best story that I possibly can, and I'm very pleased that the response so far has been so positive. We seem to have touched a nerve with people – maybe it's just that the time is right, and the world is ready to embrace a friendly alien hero.