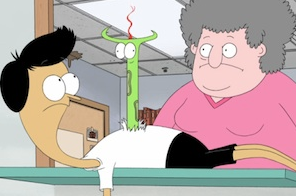 In a scene from a new Nickelodeon cartoon, "Sanjay and Craig," a boy and his talking snake attempt to sneak into a hospital to watch a butt surgery. But they're caught and the snake bursts through the boy's shirt in an attempt to trick the hospital's staff into thinking the kid is a patient.
It's a funny spectacle for today's kidsbut for parents it's a reference to Ridley Scott's 1979 classic space movie "Alien."
For Nickelodeon, "Sanjay and Craig" marks a return to the kind of irreverent early 1990s cartoons that appeal to children and adults on different levels. In the age of Cartoon Network's "Adult Swim," there's been a split between edgy cartoons for adults and more benign fare for youngsters. Nickelodeon's trying to remerge those worlds – only without all the "Ren & Stimpy"-like puke, violence and manic insanity that helped put the network on the cable map two decades ago.
"Some of the best shows have both elements for children and adults," said Jim Dirschberger, one of the creators of "Sanjay and Craig."
The new show is an attempt "to get back to our roots," Nickelodeon Senior Vice President Rich Magallanes said, noting that "Sanjay and Craig" creators Dirschberger, Andreas Trolf, and Jay Howell grew up watching the the channel's early 1990s cartoons.
"It's really surreal to go from a Nick fan to creating something for them," Dirschberger said.
In today's cartoon industry, the norm has become to separate entertainment for adults, with shows like "South Park" and "Family Guy," from cartoon shows for children, like "The Mighty B!" But animation that blends the two worlds together use to be a treasured art. Tex Avery cartoons from the early Warner Brother years began a tradition that gained and lost practitioners throughout the decades. Bugs Bunny became an archetype for dangerously fun cartoon characters with cross-generational appeal.
And while "Sanjay and Craig" is touted by Nickelodeon as bringing back the early glory days, Magallanes conceded that the stink and bile of "Ren & Stimpy" doesn't fly anymore.
"It's hard to put that into today's time period," he said.
Still, creator Dirschberger believes that some scenes in "Sanjay and Craig," will "get some letters about," he said. "Visually, the show can be pretty gross."
Joe Murray, creator of early Nickelodeon cult favorite "Rocko's Modern Life," believes that TV networks today can't be as daring as they once were during family viewing hours. During the early 1990s, the network was operating below the radar, able to get away with graphic content – sexual innuednoes and violence as the 6-to-10 set watched.
"Nobody was really watching them that much. They were so small that no one really cared what they played," Murray said. "They told me to 'do whatever you want.'"
According to Murray and others in the animation industry, cable networks today avoid pushing boundaries because they want parents to buy toys based on the cartoons, a huge source of income for networks.
"The more corporate executives piled on, the more it falls apart," said Linda Simensky, who was an animation producer at the time and helped bring "Ren & Stimpy" to Nickelodeon. "Nick began to make demands that they didn't want anything too crazy."
Simensky, along with the rest of the industry, took on the same challenge Tex Avery had taken on more than 70 years ago, bringing risk back to the cartoon industry. They also subscribed to Avery's beliefs that good cartoons come from as little oversight as possible, to better allow the creators of cartoons play out the show.
"She knew Ren & Stimpy was irreverent and she didn't want corporate to put a lid on it," Murray said. Often times, he remembers, Simensky took the episodes he created and quickly put them on air before a corporate board could review the material and remove the more risqué aspects.
UCLA Professor Doug Ward noted "Ren & Stimpy" creator John Kricfalusi, "was taking the work of Tex Avery – and I didn't even know anyone could do this – and made it even more insane."
Simensky said the fluctuation between risqué shows to tame shows is a normal tide in the cartoon industry.
"It's pretty typical to go in cycles," Simensky said. "The creator's of shows nowadays, they grew up on the early cartoons of the 90s. It will go back to that sensibility."
Which is exactly Magallanes' claim for "Sanjay and Craig."
"We have all the kids of those days coming to create shows for us," he said. "We're getting back to our basics."