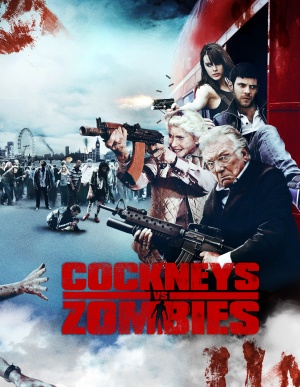 The classic zombie horde tale returns in "Cockneys vs. Zombies," a humor filled adventure, guaranteed to bite on the cerebrum of those who have a taste for quick wit and English accents.
The bluntly titled flick is about a walking dead takeover of East London that the cast soon bumps into after an escape plan from a heist gone wrong.
This film immediately jumps into zombie mode with some terrifying looking corpses ready for human flesh. Then it changes into a comedic that creates the classic Brit humor format with a couple of passionate f-bombs clashed into bloody sarcasm.
The pace of the film makes you feel that the creators could have done, but it feels right because you don't want to test your audience's patience. It goes through a fast pace feel throughout the movie with a series of quick shots that can be compared to looking from your left to your right every three seconds. Later, the pace begins to slow down at the start of the zombie invasion.
This movie will make you laugh but it's not hilarious. With that, it's hard not to compare it to "Shaun of the Dead," but it you're a fan of the Simon Peg film, then the cockney incursion is definitely worth checking out. By the end of the film, you could tell that the writers wanted to create a sense of Great Britain Pride.
The flick's special effects aren't the best, with CGI looking blood splatter and street devastation, but it's good enough to overlook because the make-up design is awesome. You'll see mangled bodies with guts splashing out and zombies ripping apart their victim as they shriek for help. It's just interesting to look at the undead jaw dangling half open with a blood waterfall just oozing out of their throats.
The music in this film adds to the sense of fun. The catchy zombie theme lyrics will have you tap your feet and bobbing your head like the wallflower you are. It's definitely iPod material with UK rock band The Automatic Automatic and the silly duo of Chas and Dave supplying some tunes.
For those acquainted with British films, you'll notice some familiar faces such as Alan Ford, Georgia King, Rasmus Hardiker, Harry Treadway, Michelle Ryan and Honor Blackman. Some have stared in American features as Ford in "Exorcist: The Beginning," but he's is mostly known for the tyrant mobster in Guy Ritchie's picture, "Snatch." He kind of portrays the same character in this zombie comedy. King is current playing a surrogate mother of a gay couple on ABC's "The New Normal." Hardiker has co-starred next to Danny McBride and a great ensemble cast in the 2011 comedy, "Your Highness."
Director Matthias Hoene is fairly new to the filmmaker game, with only three titles under his belt. He has shot one TV series, "Trigger Point" and directed two movies. His first film, "Beyond the Rave" is a horror thriller shot in the UK under Hammer Film Productions in 2008.
For only his second film, Hoene does a good job of making the audience laugh out loud at his zombie apocalypse. Simon Peg would probably be satisfied with this zombie flick lookalike.