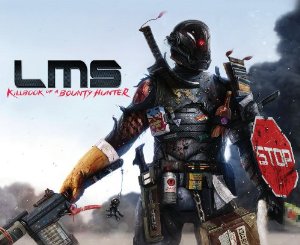 Long out of print, the cult-status art book launches in Top 100 Books on Amazon
From the mind of Dan LuVisi comes a brand-spanking-new intellectual property. Where most comics start off with a first issue, Last Man Standing starts off with a 272-page bible, Killbook of a Bounty Hunter, that sets up the entire universe of the LMS world.
Dark Horse Comics is set to reprint the hard-to-find cult tome. The hardcover book will include thirty pages of all-new material and a new cover. This bible takes the form of a scrapbook filled with maps, history, over forty character biographies and dossiers, tons of faux advertisements, and much, much more.
A limited San Diego Comic-Con exclusive edition is currently in the works, with a special cover shown here, which will only be for sale through Dark Horse at Comic-Con International 2013.
More on Last Man Standing: Meet Gabriel—last of a genetically engineered breed of supersoldiers known as the Paladin. After winning an interstellar war between Earth and Mars, Gabriel is celebrated back home and given the new title of Protector of Amerika. All goes well for the newly entitled superhero as he begins to rid the streets of the scum that plagues it. However, as Gabriel is distracted by his duties, a terrorist organization known as Pandemonium frames the hero for a series of atrocious crimes.
Now stripped of his title and prestige, Gabriel is sentenced to the notorious Level-9 Facility, where he endures nine long years of torture and imprisonment. But as the clock ticks down to Gabriel's eventual demise, he is introduced to the elusive Agent O, who offers the Paladin a chance at redemption. Learn his story—and that of his allies and enemies—through Gabriel's eyes, as he begins to orchestrate his revenge in the scarred and vivid world of New Amerika.
Last Man Standing is on sale November 6, 2013.
About Dark Horse Comics
Founded in 1986 by Mike Richardson, Dark Horse Comics has proven to be a solid example of how integrity and innovation can help broaden a unique storytelling medium and establish a small, homegrown company as an industry giant. The company is known for the progressive and creator-friendly atmosphere it provides for writers and artists. In addition to publishing comics from top talent such as Frank Miller, Mike Mignola, Neil Gaiman, Brian Wood, Gerard Way, Felicia Day, and Guillermo del Toro, and comics legends such as Will Eisner, Neal Adams, and Jim Steranko, Dark Horse has developed its own successful properties, including The Mask, Ghost, Timecop, and SpyBoy. Its successful line of comics and products based on popular properties includes Star Wars, Mass Effect, Buffy the Vampire Slayer, Aliens, Conan, Emily the Strange, Tim Burton's Tragic Toys for Girls and Boys, Serenity, and Domo. Today Dark Horse Comics is the largest independent comic book publisher in the US and is recognized as one of the world's leading publishers of both creator-owned content and licensed comics material.