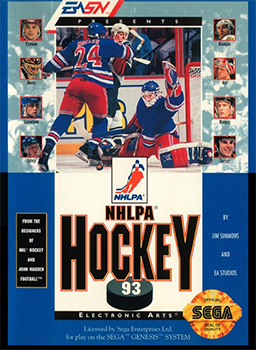 By today's standards, "NHLPA 93" is a joke, with ugly sprites, barebones gameplay and no player customization options.
20 years ago however, it was a hockey fan's dream come true. For hardcore aficionados of the sport and avid gamers, it's still a classic that has stood the test of time.
The game that made the landmark "NHL 94" possible, "NHLPA 93" featured real NHL teams, rosters and player ratings, a huge improvement over the solid playing, but vanilla options in "NHL Hockey." The ability to edit lines and save them in the game was also a landmark achievement at the time. While the playoff options aren't much different than those in its predecessor, the stat tracking abilities made it possible to see, for the first time, how players performed on the ice and organize it elegantly to fuel more gameplay. In short, it put a face on what before was just brainless and fun. "NHLPA 93" was the first hockey game with a truly recognizable soul.
Before "NHLPA 93," there was no real reason to play a hockey game for more than a game at a time. After the game was released Electronic Arts refined the solid enough engine that "NHL Hockey" was built on and redefined what hockey games should feel like. There's a reason why the game's camera view hasn't changed in over two decades. It still works.
So while "NHLPA 93" is light on bells and whistles in comparison to today's hockey titles, it'll always be considered a classic.