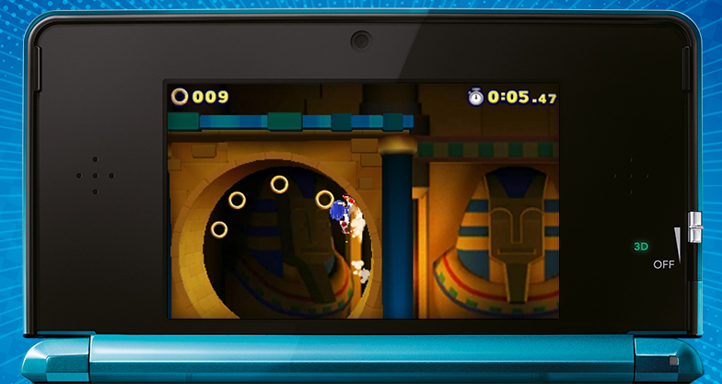 With platformers in abundance on the 3DS, Sega has done a solid job thus far in its development of their new Sonic title, "Lost World." Colorful and fast, it's got plenty of old-school allure, but with the addition of the Wii U control scheme for the title ported over to the handheld and online play already confirmed, it's a more than fulfilling addition to the series.
Even in development, Lost World on the 3DS doesn't not appear to be a shallow port. While Sega was mum on the Streetpass options that'll be available once the game is released during our hands-on demo, the time spent on the brand new level design and online elements makes extra options such as Streetpass an almost certainty.
Graphically, "Sonic Lost World" thrives. As soon as the game is fired up, you'll notice some of the best looking visuals on the console to date. Simply put, the palette for the game looks like something from "The Wizard of Oz." Bold and bright, they draw your eyes immediately. The stereoscopic 3D as well does its part to make things "pop." Everything in this world is poignant and cool.
While the control and level design are sound, they take a bit of time to get used to. In "Lost World," exploration is just as important as speed, meaning Sonic may have to walk around at times to continue to progress through the levels. Intermittently, you may not know exactly where to go in order to finish up a section. Even though it's frustrating on the more spacious areas, the level design isn't complex. You will eventually find your destination, even if it takes a little longer than you hoped. This isn't the case in the more 2D and traditional Sonic levels, which feel and play sharp and smooth. Even with their kinks however, the larger levels provide a nice change of pace from the usual Sonic goodness.
Behind gorgeous visuals and this new speedy/explorative Sonic formula, "Lost World" may be the one third party game that you'll remember on the 3DS this year.
Check out a trailer for the game below:
"Sonic Lost World" is set for a Holiday 2013 release.