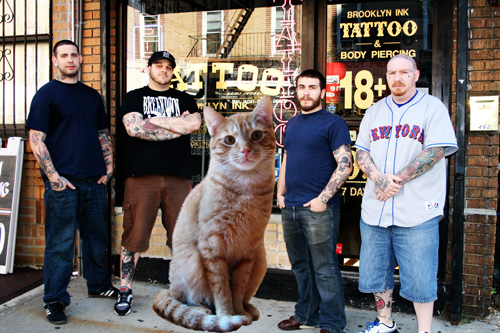 A thin hairlike needle whirs as it pierces and sinks into the skin. The tip of the pen dips into ink and traces a pre-applied outline. The screams that you expect to accompany the buzzing needle are strangely vacant. The artists hands are steady and sure of themselves, results of years in the business.
Brooklyn Ink is different than the surrounding stores in the 86 street, Bay Ridge, Brooklyn area. Rather than selling clothes, services, or food, this establishment specializes in permanent alterations of the body: piercings and tattoos.
Tattoo shows such as "LA Ink" and "Ink Master" have glamorized the tattoo industry and conceptualized the business as stressful, antagonistic, sexy and petty. Yet in Brooklyn Ink, there is an overall feeling of relaxed comfort. "This is nothing like those shows." Matt Huff remarks. "No love triangle like in those shows."
Manager of the store, Joe Kindya has no toleration for that type of reality shows. Scornfully, he dismisses it as boring.
"I don't feel like going home and watching other people do what I do for a living as entertainment," he said.
Brooklyn Ink is a business is run by five friends: Kindya (owner/tattooer), Alex Franklin (owner/tattooer) , Rob Kinzel (tattooer/piercer), Matt Huff, (tattooer/piercer) Shaun Plunkett (shop assistant/manager), and Bobby Osbourne (tattoo apprentice). Kindya, however, is the main guy. Kinzel explains that the chairs are rented out by percentage per month or percentage per tattoo, much like a hair salon. The shop offers apprenticeship for new artists to learn how to tattoo, and they practice on each other. Osbourne is the newest member to the team, Â quietly learning and observing, through Kindya's teaching.
Brooklyn Ink offers a more realistic approach than what TV dramas propagate. The shop is small, but comfortable, wide enough to accommodate three barber-shop style chairs and a six-foot bench. The walls are filled with prior pencil sketches of people, snarling or docile animals, grinning skulls, pink girly hearts, nude babes, and artistic lines resembling barbed wire. Rows of framed flip posters display optional tattoos in either black and white or vibrant colors, such as crimson red and fiery orange/yellow.
A glass case houses all the different piercings Brooklyn Ink offers. A small shelf houses "Body Modifications and Piercing Journal," daily planners, release forms and "Gray's Anatomy." A motionless clock provides adornment to the shop and a security camera slyly stares at its unaware subject. Overhead lamps provide ample light for the artists to imbed ink in their clients. The counter is cluttered with pens and sharpies and cups and ink and various chemicals and tools of the trade. Three counters have sinks and trays installed. A beautiful flat screen TV is mounted on the white brick walls and TVLand and Food Network keep some of the artists occupied while they wait for their next appointment or just to pass the time.
In addition to being having a more realistic setting than that of the so called "reality shows," Brooklyn Ink also has a policy of "No drunks on the Premises. The bartenders of nearby bars caution their patrons: "Don't go to Brooklyn Ink, they'll kick you out."
Crude sheets of white paper enforce this and other warnings to all their customers. Black letters issue warnings: "Got Nothing To Do? Don't Do It Here," "Don't Be A Dick Here. We Will Throw You In The Street," "Notice: Prices Subject To Change According to Customers Attitude" and "Tattoos Aren't Meant For Everybody. And They're Too Goddamn Good For Some People" – Lyle Tuttle
As the time nears the next appointment, three of the five artists begin to prepare tools, art stencils, trays and tables. A printer hums to life as the artist prints a copy of his work onto transparent tattoo transfer paper. Huff and Kindya don white aprons to protect their clothes from the various ink intended for the near-future tattoos.
The shop assistant and manager, Shaun Plunkett, prepares to have a new tattoo inked onto his own lower left leg by another artist, Matt Huff. As the session begins, Plunkett confirms that, yes, there is sharp pain, but he doesn't complain about it. He is surprisingly quiet in spite of the fact there is a needle searing into his flesh.
Jokingly, he quips, "You know whats awesome about getting a tattoo? Nothing!"
Kindya explained that the reason there isn't sedation is because they would have to hire an anesthesiologist and have the proper medical equipment.
"What was originally a $150 tattoo just became a $1000 job. Someone could slip into a coma very easily and that would be a huge liability."
Two of the artists, Osbourne and Kinzel, meticulously pencil sketches art onto a notepad, practicing their skills for future customers. Friendly conversation floats around about random topics such as movies, music, future tattoos, and geography.
As the tattoo comes near to the end, Plunkett laments, "Now it's not so much the pain, it's the boredom." Plunkett must sit quietly and motionless while his new tattoo is completed. Immobility is a strict requirement to ensure that the tattoo is as well-etched as possible. Although he distracts himself with his iPhone and light conversation with the other artists, his situation is understandable.
Upon completion, saran wrap is wrapped around the fresh tattoo and a paper towel is taped over the wrap to ensure it stays in place. The boss looks over and praises Huff's work: "That's the best tattoo you've ever done." A photo is snapped of the new handiwork and the session is finished.
Plunkett explained that the whole area of a new tattoo is sensitive, with the feel of sunburn or a slight sing. This irritation lasts for a day and after that, there is minimal pain.
"The whole area feels itchy," Plunkett said. "You feel something and it doesn't hurt enough to limp, but your body feels like it should be doing something different."
Crazy or weird designs don't matter to the artists. It's not their body they're tattooing that onto so they really don't care how strange the request may be.
"You gotta remember with piercings and tattoos, to each their own." Kindya explained. "What may be weird or crazy to you is normal to someone else."