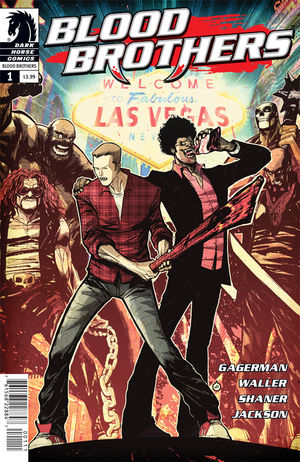 "Blood Brothers" is what happens when you put "Dog The Bounty Hunter," "Interview With a Vampire" and "Animal House" in a blender.
Writers Mike Gagerman and Andrew Waller craft a silly take on the buddy comedy that chock full of witty moments. Main characters, bounty hunters and vampires, Tree and Nick have an almost Laurel and Hardy, meets Mel Gibson and Danny Glover type of relationship. Tree is more the troublemaker and nymphomaniac, while Nick wants to find some semblance of normality in his life. Unlike Tree, Nick is even in a committed relationship with a woman he loves. More than anything, you get the feeling Nick would be happy with an average life.
But that's kind of hard to have when you're a thousand-year-old vampire that has done everything from watch the signing of the declaration of independence participate in an orgy at the Sistine Chapel with Michelangelo.
These important moments in time are brought alive by artist Evan Shaner with the type of detail that does the written word justice, but adds a flavor of its own. While the context of the comic is whimsical at times, Shaner is able to add the grit and depth to make the characters "pop." His facial expression in particular is stellar. From the rage in the eyes of the baddies to Nick's quite desperation, Shaner's work in issue one is an added bonus to the TV worthy story.
With elements of comedy, suspense and some cool fight scenes, "Blood Brothers" quickly makes itself a great change of pace read for those who enjoy a wide variety of pop culture goodness. It's smart and sexy too, but never so much that you forget to laugh. Like any solid comic book, it makes its case often. Equally as comfortable on top of the toilet bowl as it is on the living room table, it's a fun excursion that deserves to continue for a while.