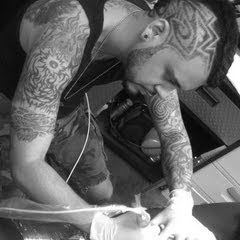 With his hair neatly parted to the side, and playfully sporting a mischievous smile, his colorful skin match his equally colorful personality. One of the many tattoos on his body stand out with great meaning, the worlds "self-made" sprawled across his knuckles couldn't be more appropriate for tattoo artist Cris "Element" Miranda. In the competitive world of tattooing, Miranda has no one to thank more for his rising success but himself and perseverance.
"I can't see myself working and busting my ass to make someone else rich. Upper class people don't really give a crap about the lower class," Miranda said. "I just got fed up of taking directions from people who didn't care about my well being. That's when I decided to give tattooing my all and make a living out of it."
Miranda has always been a free-spirited artist through and through. Growing up, he felt a compelling need to express his artistic qualities by drawing, doing graffiti, acting and playing pranks on his friends using several characters that he himself has brought to life with his quirkiness.
In his early years, Miranda didn't take well to the binding structure of school. He was constantly scolded for drawing and doodling in his books rather than paying attention to his daily lessons. He often struggled with taking orders from authoritative figures and regularly found himself drifting off to do what he pleased anyway.
When school and a number of dead-end jobs continued to fall short for him, he decided to pursue his dreams of being a tattoo artist. In 2006 he set search of an apprenticeship. He spoke with the shop owner of "Brooklyn Ink," in hopes to be given a chance to learn the tricks of the trade first hand.
"I knew I was going to learn somehow. It pissed me off when he turned me away, I wasn't even given a chance," Miranda said. "I was so hungry to learn that nothing and no one was going to stop me."
The request was declined due to lack of experience and in the shop owner's opinion, talent. He not only denied the apprenticeship, but also told Miranda that his work wasn't good enough and that he should consider another career path.
Instead of letting the rejection bring him down, Miranda decided to take matters into his own hands.
"I left the shop, bought a tattoo machine and started practicing on myself," Miranda said. "I bought a lot of DVDs and books on how to tattoo and learned on my own."
Soon enough, Miranda was out looking for work again. This time he landed a job at "Sunset Tattooing Inc" drawing flash, a type of generic tattoo art often used as display pieces or in binders for customers to use as reference for their tattoo.
"My work sold very well at the shop, it only made sense to me to continue what I was doing," Miranda said.
In 2007 he started working as a full time tattoo artist at "Puncture Tattoo Studio." There he spent five years building up his clientele and perfecting his skills as an artist.
Miranda attended many tattoo conventions and events with his coworkers to display their work as a shop collectively and to shed some light on himself as an individual artist, specializing in color realism, portraits and black and gray.
With a smile on his face, Miranda remembers getting started and how accomplished he felt seeing his work spread across the pages of tattoo magazines for the first time. Through out his career he has been featured in magazines such as "Central City Ink," "Rebel Ink," "Urban Ink," "Savage Tattoo," "Freshly Inked," and "Bound by Ink" showcasing his work a long side other talented artists such as himself.
"I keep all of them. I have them all in plaques," said Miranda.
In 2012 Miranda participated in the live art exhibit "The Dali Dynasty" at the Philadelphia Tattoo Convention showcasing the work of the late artist, Salvador Dali. His entry won 2nd place.
One thing Miranda has learned about the tattooing industry is that it's every man for themselves.
"You have to market yourself and make yourself the brand," Miranda said. "I learned a lot at Puncture. I felt like I reached my peak of learning there. He [shop owner] didn't take it upon himself to market the shop. So I branded myself, now wherever I go people are coming to me for my work, not for the shop."
Miranda also believes in taking full advantage of social media.
"It's free advertising," Miranda said. "Although my clientele is mainly from word of mouth, social media is a great tool to showcase your work to people who may not have seen it otherwise."
The tattoo industry is extremely competitive, leaving artists constantly striving to improve. If you're going to learn something new, you might as well learn from the best. Miranda does just this.
"I started getting tattooed by famous tattoos artists because you can learn a lot from them," Miranda said. "When I was getting a tattoo from Stefano Alcantar and this guy [Christian Perez] I just looked at everything they were doing; Their set up, their hand movements, everything. I really learned a lot from them."
While being involved in the tattoo industry, Miranda has been given the chance to meet with some of the exceptionally talented artists that he admires. He takes great pride in the small collection of tattoos he has accumulated thus far from big name artists while traveling through tattoo conventions. He hopes to get his hands on a piece from Nikko Hurtado and Jeff Gogue in the near future.
After five years of employment, Miranda left his position at "Puncture Tattoo Studio" to fill a place in the "Leathernecks Tattoo" family in late 2012. Being one of the nine tattoos artists belonging to the shop, he feels more at home and on the same page with the people around him.
"Here [Leathernecks Tattoo] it's a little different, we have so many great artist working here. We all have different styles and admire each other, learn from each other," Miranda said. "It's all about learning. I love learning."
With hard work and determination, Miranda has been lucky enough to turn his passion of art and tattooing into a career he can be proud of.
"I'm doing what I love and making a career out of it," Miranda said. "I don't consider what I do a job. I have fun with it and get to create art for a living that people can wear."