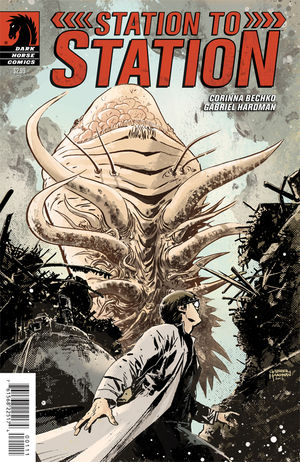 An apocalypse story with elements of pulp and noir, "Station to Station" isn't for everyone. The quick pace makes for a great subway read, but the lack of real backstory and action make it more a tease for bigger things to come.
In a one-shot format however, there's no guarantee of a future.
The end result is a short read that in spite of its potential, never captivates us to want more. Think of it as a poor man's version of "The Massive," minus the charismatic characters. That lack of personality is ultimately what destroys the comics chances at real success. Instead, it ends up as a mediocre comic with a solid but thin story.
Make no mistake, writer Corinna Bechko's world is a cool one. It just needs more room to grow and develop. You can't help but feel that she's been influenced by the work of Alfred Hitchcock and Stephen King as the story reeks of sorrow and strength. The sense of foreboding doom is prevalent throughout the comic. The surprise ending is well done. What she gets done in 29 pages is entertaining, but feels rushed. This book should have been a graphic novel instead. That's the only way to do the idea justice. As it stands, it's just a cool little story.
Artist  Gabriel Hardman's work will remind you of something out of a classic Conan the Barbarian comic. Treasure Island's prehistoric and sci-fi intruders are beautifully drawn, with attention to detail. At the same time, some of the scenes jump around and the reader is expected to fill in the blanks. one scene has a character reach for a gun and the other shows him shoot someone, but we never see him successfully acquire it. Another panel shows a character jump off a cliff and in the next panel he's flying, on a prehistoric bird. While we know what happened there, it would be nice to see how it happened.
Sadly, much like the shallow at times story, these are the sacrifices one has to make When they are forced to squeeze a graphic novel amount of content into a one-shot.
From the sum of its parts alone, "Station to Station" should be a success, but its lack of depth hinder the remote possibility that the story and art have a huge amount of potential.