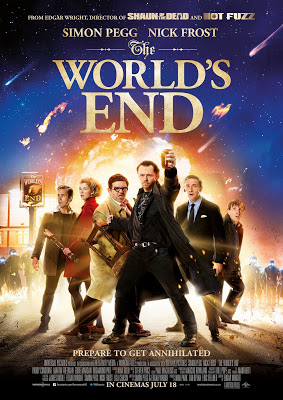 During the 109-minute length of The World's End, Simon Pegg brings up one movie reference, and the additional cast members don't indulge in any at all. Audiences aren't going to miss them. Considering how much mileage he and Nick Frost got from the ghosts of blockbuster's past in Shaun of the Dead and Hot Fuzz, it's good to know they and director Edgar Wright can come up with entertainment of their own instead of lighting candles for everybody. Besides, given all those movies Pegg and Frost brought up in Paul, it's difficult to bring to mind any sci-fi films they haven't already assaulted.
Before the film takes a turn into a plot full of robotic replacements, it begins by introducing Gary (Pegg) as he cooks up an idea to reclaim the glory days he bid farewell to after finishing school. Before he can hit bars in his hometown he graced with his presence years ago, he has to convince his buddies to come – although Oliver (Martin Freeman), Steven (Paddy Considine) and Peter (Eddie Marsan) aren't falling over themselves to catch up with a guy who never grew up, he has an ordeal adding Andrew (Frost) to the plan because of the time he spent getting sober. By the time Sam (Rosamund Pike) brushes Gary off after he attempts to hook up with her as they'd done during the old days, it becomes clear that everything's changed.
All the same, the biggest change comes to light after his discovery of a force that's done away with almost everyone in the area and brought in androids to fill in for them. Even after his principal's double (Pierce Brosnan) assures him life's great since everybody went digital, Gary knows better than anyone that change isn't always good.
The fact that Pegg and Frost never collaborated on any film quite like this demonstrates they're capable of handling different comedy and coming up with something better than the agreeable but lightweight Hot Fuzz. As a matter of fact, fans will argue about whether this or Shaun of the Dead is the apex of their history with Wright. Plus, the actors bring gravity to their roles, and it helps that Frost can approach his all-business character ably after all that experience acting like a buffoon. Maybe growing isn't difficult after all.