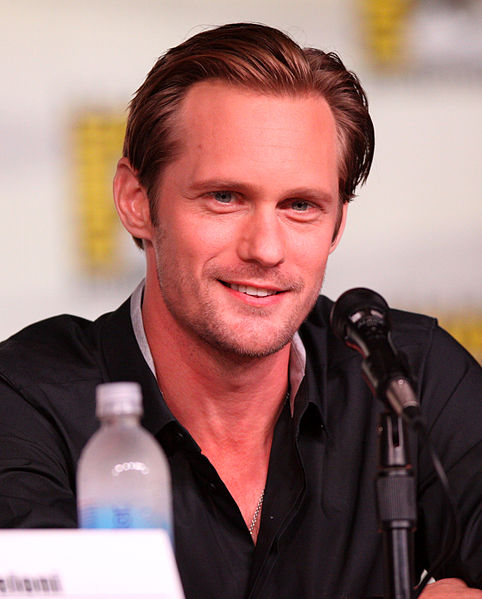 At six foot four and 200 pounds, Alexander Skarsgård looks more like a modern day viking turned Hollywood actor than anything else.
Clean, cut and cool, the Swedish national has taken the country with a bit of a hype, especially with the rise in popularity of HBO's "True Blood," where he plays Eric Northman, a thousand-year-old ancient vampire — coincidentally of viking decent and bearing all the looks, charms and thrills of a seductive vamp.
But looks can be deceiving — Skarsgård has proved to be more than just a type cast for alpha male roles or just a hunky, sultry character.
His ventures into acting while choosing worthwhile projects gave him versatility and made him grow to be more of a dynamic and multifaceted actor than the already talented performances the audience witnessed in his portrayal of Sgt. Brad "Iceman" Colbert in "Generation Kill" — his first big break project with HBO in 2008.
"I think ["True Blood" and "Generation Kill"] are probably two of the projects that I'm most known for, but I don't want to be pigeonholed," said SkarsgÃ¥rd. I don't want to only play that — only to play that. Right before we shot "The East" I shot a film called "What Maisie Knew" and the guy I play, [Lincoln] is very, very different from those other roles. He's definitely not an alpha male. Same thing in the movie I did two years ago called "Melancholia." That guy, [Michael] is definitely not an Iceman from "Gen. Kill."
In the Swedish film "Kill Your Darlings," Skarsgård also played Geert, a suicidal transvestite — a role very different from the typical Northman or Iceman characters he is usually offered.
Son of the renowned actor Stellan Skarsgård, his acting career began in Sweden when he was only seven years old. It was completely different from being a Hollywood child actor. He didn't have the ordeals of headshots or parents who would take him to auditions. Since his father was an actor, the whole process simply happened organically.
It all started with a director friend of his father who offered Skarsgård a role in his film. That quickly led to other projects. He acted for six to seven years until he quit.
"I did something when I was 13 in Sweden that got some attention and that made me very uncomfortable," explained SkarsgÃ¥rd. "Suddenly I had a lot of attention and got a lot of offers — I didn't like being recognized. I didn't like the attention."
Although he did not specify what project was the cause of all the attention, in 1989, when Skarsgård was 13 years old, he portrayed the character of Jojjo, in the Swedish film "Hundem som Log" ("The Dog that Smiled").
As a child, Skarsgård brought up the matter with his parents and described to them how tough it was for him. He explained that most people in that situation would just keep going, especially Hollywood parents that live vicariously through their kids. But at that moment, he remembered, his "parents were great."
"I remember sitting at a dinner table saying 'I don't like this,'" recalled SkarsgÃ¥rd. "'Acting is fun and all, but I don't like that when I'm out with my boys just playing football or whatever that people recognize you — it feels weird. I just wanna be one of the guys.' And Dad said 'I love this job, but if you feel that there's something else you can do, go do that.'"
Skarsgård has lived by that. He realized at an early age that an acting career would be a tough job in life. Most of his father's friends, although talented, often waited tables into their 40s and 50s. His father explained to him that it was extremely arduous to land a job in the field. However, the ones that are lucky enough to work will have a difficult social life as actors are constantly on the road.
"When I was a kid, he was doing theatre and was there 16 hours a day," SkarsgÃ¥rd said. So he basically said 'If there's an option out there go do that. If there's no option, if you have to do this, then do it.' I carry that with me. That's really good. As long as I feel that this is the only thing I want to do — that this is the only thing that makes me happy, then I'll keep doing it."
Skarsgård didn't act for eight years through his bit of a rebellious teenage years. After his service in the Swedish military, he attended Leeds Metropolitan University in England. At age 20, he enrolled in Marymount Manhattan College in New York to study theatre. Although he went back to Sweden after only six months, his passion for acting was already reinvigorated.
"I missed acting — I missed the stage," exclaimed SkarsgÃ¥rd. "So I just felt like I was 20, and like most people that age, I didn't really know what I wanted to do with my life. So I figured that before I dismiss this for good, I just want to give it a go again. 'Maybe it's different now from when I was 13,' you know. So that's how I got back into it."
While he worked as a busboy at a restaurant and a coffee shop in Stockholm for a couple of years, Skarsgård auditioned in Sweden. He worked on a couple of movies and plays there, but it wasn't until he went on vacation to Los Angeles to visit his father who was shooting a film there, that he got his first chance in Hollywood.
Since Skarsgård was already there, his father's manager sent him out to an audition just so he could get a feel for what it was like out there.
"I was like fuck it, it's fun," said SkarsgÃ¥rd as he chuckled. "And that was 'Zoolander.' And I, for some reason got the job. Two weeks later I was in New York and I was working with Ben Stiller. I came home to Sweden and was like — because of that I got an agent and a manager in Hollywood — and I told my friends, Hollywood is easy," he laughed. "'You go, you meet Ben Stiller and then two weeks later you're like doing this trampoline fight in Manhattan.'"
Skarsgård returned home and spent two more years on stage as he worked in theater in Sweden. Then in 2004, he had finally set his mind and headed back to the States with a collective of friends from Sweden that were musicians, directors and actors. They rented a place together in Los Angeles.
"It was a lot harder than I thought It would be," recalled Skarsgård. "I was doing plays in Sweden that I was really passionate about. And I came to LA and I read all these terrible scripts and I got called into these cattle calls for jobs I didn't really want. So I was kind of like what's the point of being here? But then I read "Generation Kill" and I felt like for the first time, in a long time, I got really excited about a project."
Although it took a little over two and a half years for Skarsgård to land "Generation Kill," it paved the way for great things in this actor's path.
With extensive experience from a broad scope of acting in both theater and film, Skarsgård's range is impressive. Although many of the scripts sent his way are the typical alpha male roles that he is most known for, Skarsgård claims that it is always about "challenges."
"If I don't feel that it is different from what I've done before," explained SkarsgÃ¥rd. "If I don't feel that there's an exploration, a challenge, something intriguing — then I wouldn't be creatively excited about it."
Skarsgård understands that "True Blood" receives a lot of attention. But after six months of playing Eric Northman when he shoots the season, the last thing he wants to do is play a character like Eric Northman in a film.
"I want that break to go play guys like Benji in 'The East,' or Lincoln in 'What Maisie Knew,' or Derek in 'Disconnect,' Skarsgård continued. "Characters that are very, very different because it's fulfilling creatively. And then when I go back to ['True Blood'] after doing that for six months, I'm actually excited to hang out with Eric Northman for a bit again."
He has most recently portrayed the character of Benji in Zal Batmanglij's film "The East." He will appear as Ray in the Duffer brothers' film, "Hidden," released later this year. Skarsgård is also currently in talks to play Tarzan in the upcoming film.
Whether it's a big budget film or a small indie project, Skarsgård will read the script — and if it's good, he will get behind it. For him, it's about the connection, the relationship and the excitement that he has with the character.
Skarsgård is not a method actor. He reads the script once a day from when he receives it. He claims that this is his way of discovering new things about the character and coming up with new ideas — a factor that has led Skarsgård to persistently deliver solid performances in his work.
"I wanna have about a thousand thoughts and ideas in my head about the character and then I know 990 of them will be crap," explained Skarsgård. "But hopefully there will be at least ten good ones — and that would be the foundation for the character."