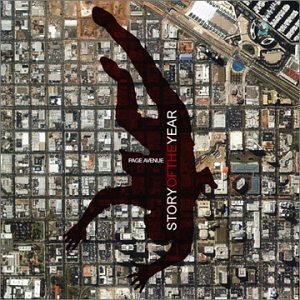 Review Fix chats with Story of the Year frontman Dan Marsala, who discusses the band's now 10-year-old breakthrough album "Page Avenue" and the modern day acoustic re-do, set for an Oct. 6 release.
The band is also set to headline the 2013 Scream It Like You Mean It Tour.
Review Fix: Why did you guys decide to redo "Page Avenue" acoustically?
Dan Marsala: We knew we wanted to do something special to celebrate the 10-year anniversary. We threw a lot of ideas around and decided that it would be a cool to strip down all of the songs and re-record everything. We wanted to make versions of these songs that were completely different from the originals. It's pretty much just a tribute to the original and something fun for the fans that grew up loving these songs.
Review Fix: What song were you most surprised about when you heard it acoustically?
Marsala: There are a few on the record that totally surprised me. "And The Hero Will Drown" is so different from the original version, but I think it turned out awesome. I loved writing melodies for parts that were originally screaming parts. I also love the way "Razorblades" turned out. I think I like that song more now than I ever have.
Review Fix: "Page Avenue" was a huge commercial success and helped establish the band. How did it affect your life and how do you feel about the (original) album now?
Marsala: Page Avenue completely changed my life. Its success has allowed me to play music for a living for the last ten years. There were times where we were tired of playing certain songs, and of course there are always parts that you wish would have turned out a little different, but I still think there are some great songs and great production on that album and I super proud of it.
Review Fix: What's your favorite song on the album? Why?
Marsala: Every song has some special meaning to me for different reasons, and my favorite changes from day to day. Right now I'm really digging "Anthem Of Our Dying Day." It has an awesome creepy vibe to it that I love. Some of the songs took on completely different meanings when I had to re-sing all of the vocals. Some of the lyrics make more sense to me now than they did ten years ago.
Review Fix: For a song like "Anthem Of Our dying day," that has a heavy acoustic base, how is it different from the original?
Marsala: For any of the songs that were already based around acoustics, we tried to focus on piano. Actually most of the record is based more around piano and strings than acoustic guitars. The piano creates such a dramatic feel and it fits perfectly with most of these songs.
Review Fix: How do you think the album stacks up with the original?
Marsala: Like I said before, I think it's a great tribute to the original. We knew that we couldn't top what we had already done and there will always be a certain nostalgia that is attached to the original recording. So our goal was just to create totally different versions for us and the fans to enjoy. It's always fun to hear how a song works on a broke down level. No comparison, just a bonus.
Review Fix: The band has accomplished a lot, but what else do you guys want to do? What's on your list?
Marsala: We've accomplished more than I ever could have imagined as a band, and if it all ended tomorrow, I would have nothing to complain about. But I think that the goal now is to keep that dream going. We want to play music forever. We're just going to try to stay relevant and keep producing music that we love.
Review Fix: Why do hardcore fans buy this album?
Marsala: If you're already a fan of Page Avenue and love those songs as much as we do, then this is a great way to re-experience these songs. There is such honestly and vulnerability in these "acoustic" versions and I think everyone will love it. We didn't just phone this one in, we put a lot of time into re-imagining and making these songs the best they could be.
Review Fix: For someone who's never listened to the band, is this album a good first introduction? Why?
Marsala: Haha. It would be a little confusing because our live show is going to be a lot louder and crazier, but yeah, I think it is a great way to experience our song writing. Our songs have always been about melody and catchiness so this is the same SOTY- just a mellower version.