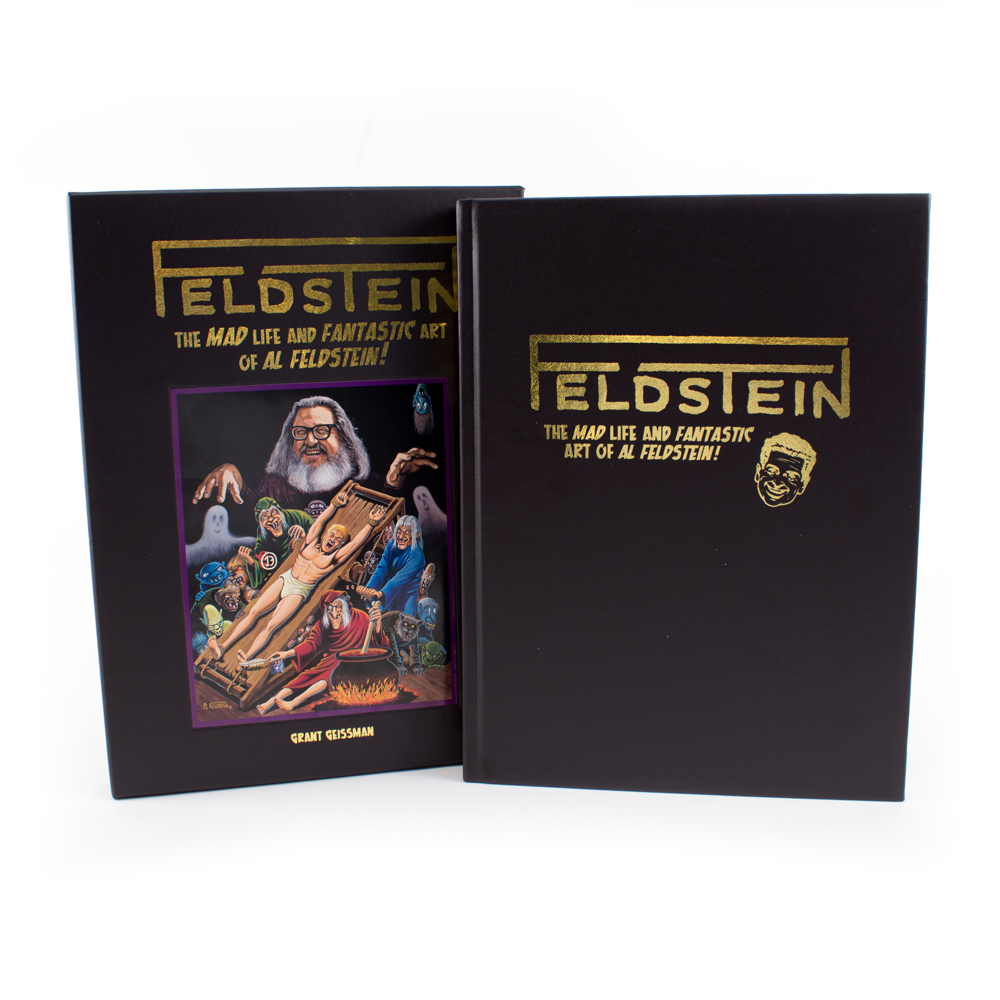 LIMITED-EDITION BOOK COLLECTS THE LIFE OF AL FELDSTEIN IN BEAUTIFUL SLIPCASED FORMAT
IDW Limited announced have the release of a signed, limited-edition version of FELDSTEIN: The MAD Life and Fantastic Art of Al Feldstein, signed by artist Al Feldstein and author Grant Geissman. Al Feldstein is best known for his work as an artist/writer/ editor in the 1950s at the legendary EC Comics group, and for his nearly three decades of work as the editor of MAD magazine. Feldstein was inducted to the Will Eisner Hall of Fame in 2003, and was awarded the Bram Stoker Lifetime Achievement award in 2011. Limited to 500 signed and numbered copies, this deluxe book features an exclusive cover and custom slipcase created especially for this edition (http://idwlimited.com/books.html).
"Feldstein provided me with unprecedented access to his personal archives for this project," says Grant Geissman. "His is quite a remarkable tale, and I am honored to have been able to present it."
FELDSTEIN: The MAD Life and Fantastic Art of Al Feldstein is both a full biography and a coffee-table art book, spanning his entire life and career. Along with rare and previously unpublished photographs, this full-color book pictures every one of Feldstein's EC comic book covers (many placed alongside the original artwork), several complete EC stories, plus nearly every splash page and house ad Feldstein did for EC. It traces his nearly thirty-year career as the editor of MAD, and presents his post-retirement work as a "fine" artist, including his prize-winning Western canvases and his many commissioned paintings "revisiting" his classic cover images from the 1950s. Author Grant Geissman pulls from all aspects of Feldstein's life, not all of it sweetness and light. The exclusive IDW Limited cover features a beautiful Feldstein painting featuring EC's horror hosts the Three GhouLunatics, various creatures, and a Svengali-like image of EC and MAD magazine publisher Bill Gaines. It's a perfect homage and finishing touch to this remarkable edition.
"Feldstein is a living legend," says IDW Limited director Jerry Bennington. "From the artists he helped discover to the stories he's written, illustrated and edited, Al Feldstein's influence has cast a long shadow on comic culture. We were overjoyed when he agreed to sign copies of this limited edition. It's a very special book and we're honored to deliver it to his fans."