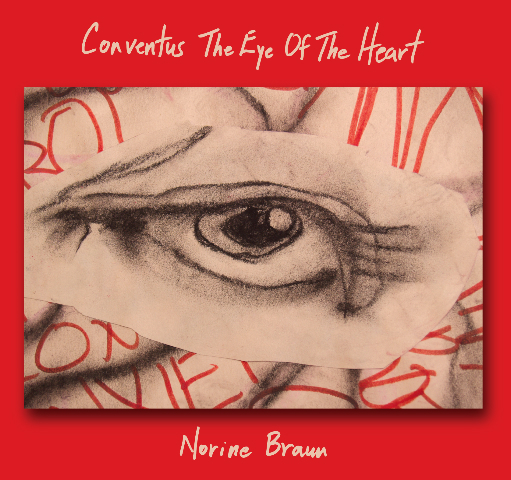 Channeling a variety of different tones and managing lyrics that tread in a plethora of emotional themes, Norine Braun's "Conventus The Eye of the Heart" is a deep musical experience that requires multiple listens to truly appreciate.
Although you'll often be drawn to the guitar and bass work of Adam Popowitz, at the essence of this album is Braun, who is comfortable in a variety of roles. Sometimes she writes of the parental experience, at others, she's a political crusader. This makes "Conventus The Eye of the Heart" the type of journey that may not strike everyone's musical fancy, but don't mistake that for fault. There will be a track or two everyone can relate to on this album. Her comfortable and soul-filled voice screams of the past, with easily identifiable influences to Bob Dylan, Joni Mitchell and Patti Smith play a part in her sound, but Braun's band is so much more.
If Braun were a member of the X-Men, she'd be Mystique. Her often sexy voice is able to shift into whatever she wants, almost forcing a listener to give her a few more seconds to make an impression.
The hypnotic feeling goes further than just the vocals. Aside from the normal accompaniment of guitar, bass and percussion, a blues harp, keyboards, harmonica and penny whistle find their way into the sound. Simply put, this album shows off all the flavors Braun and her band bring to the table. There are plenty.
In "99%." Braun becomes an activist. Her thoughts on the occupy movement are interesting ones and if you're from the same mind as her, you'll enjoy the song and the lyrics. An animated musical video for the track also adds another level of appeal to the politically charged track.
"Lightening Strikes Twice" is a catchy track that will immediately remind country pop fans of a slightly more macabre version of KT Tunstall's "Black Horse & The Cherry Tree." A cool harmonica and bass intro sets the scene perfectly. Although a tad on the repetitive side, Braun's slightly throaty but charismatic vocal performance will get you to slap your knee.
"Boy" is a different type of track that has Braun take the role of a parent. It's easy to imagine her sitting on a child's bed, flipping through a children's book and reminiscing while singing. This track may be the best example of Braun's vocal prowess as well. The held notes, the soft verses are captivating. Part jazz singer with tinges of gospel and even country, "Boy" is the song new listeners may be drawn to the most.
Through the sometimes challenging emotional content, combined with solid musicianship and Braun's often dark yet silky vocals, ""Conventus The Eye of the Heart" is an album that is nearly impossible to classify by genre, but is something that quickly steals your ears.
Watch the video for "99%" below:


For more information on Braun, click here.