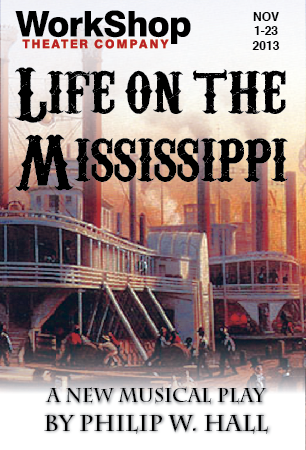 Review Fix chats about the WorkShop Theater Company's Musical Theater Wing's production of "Life on the Mississippi."
"Life on the Mississippi" is based on Mark Twain's memoir. Hair-raising, hilarious, life-changing and violent are just some of the currents steamboat pilot Sam Clemens will navigate in this musical journey. Young Sam Clemens and his brother Henry step onto a Mississippi steamboat and aboard the chance of a lifetime. As a cub apprentice, his burning ambition propels him to become a steamboat pilot, but he soon discovers that learning the great, relentless river will be harder than he ever imagined. Now Sam must plot a course through the dangerous currents, as mysterious as the Mississippi itself.
Click the Link Below to Listen in:
Review Fix Exclusive: Andrew Hubacher Talks 'Life on the Mississippi': Sneak Peek
Tickets are $15-18 and are now available online at www.workshoptheater.org. Tickets may also be purchased in person at the theater ½ hour prior to performance.