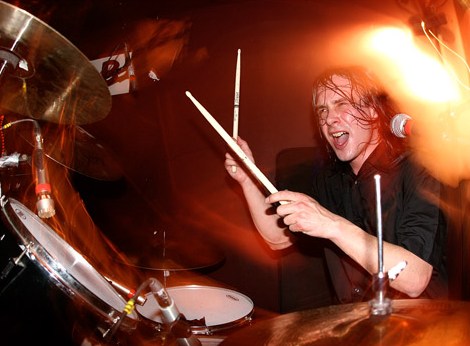 Review Fix chats with TANG drummer Bastien Gournay, who discusses the bands new album "Dynamite, Drug, Diamond," as well as their sound and hope for the future.
Review Fix: What was the inspiration for this album?
Bastien Gournay: Dynamite, Drug, Diamond is our third album. We decided to slow down and take our time before getting into its creation. We wanted the songs to be catchier with a faster tempo and tunes that could easily stay in one's head. Review Fix: What track are you most proud of?
Gournay: We would agree to say Run & Run & Die. That song is one of our favorite, because it proposes a strong verse/chorus part and then evolves into a long and accomplished progressive part, mixing various ways of playing and singing.
Review Fix: What do you think you have to do to get to the next level? Is anything holding you back?
Gournay: We want to build new songs, maybe in a more instrumental and experimental way. Maybe with less lyrics. We also try new ways of tuning the guitars and are interested in using new instruments.
Review Fix: What do you think your biggest strength is?
Gournay: Maybe the fact that TANG is more than 17 years old. We developed our ways of playing and our own personal musical universe.
Review Fix: For someone that's never heard you, how would you describe your sound?
Gournay: Our sound insists on the contrasts of tensions. It holds intense, powerful, noisy and screaming parts and beautiful melodic and fragile parts.
Review Fix: What did you learn during the creation of this album? How will it affect you moving forward?
Gournay: Time is the answer. We sometimes got the impression that the world is going too fast for us. We didn't want to feel squeezed. So, we decided to escape from that way of doing things. We wanted to have the time and freedom to try any idea and experiment with new instruments on some songs.
Review Fix: How do you want this album to be remembered?
Gournay: Not in a special way. We would just be happy to know if our music has followed someone during a part of their life.