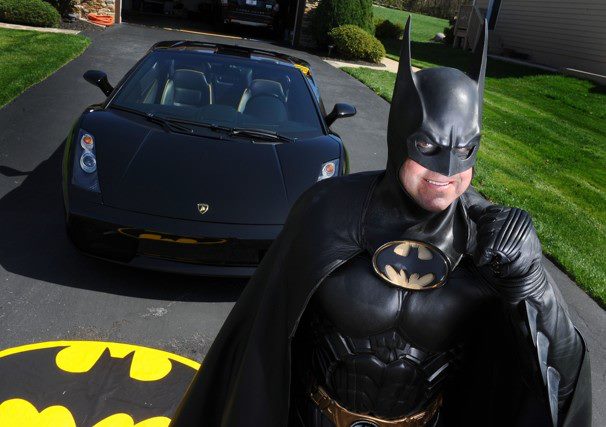 Over a decade ago, Baltimore businessman, Lenny B. Robinson, dressed as the Gotham Knight and his son, showed up unexpectedly to a children's hospital in Baltimore, Maryland. He currently spends his days visiting hospital's across the country to meet and entertain pediatric patients.
Now 49, Robinson, more often referred to as "Batman," continued his crusade at the Ronald McDonald House on 73rd street and 1st avenue in Manhattan, New York on Wednesday.
Robinson rolled up in his "Batmobile" around 4 p.m. for a meet and greet with patients at the center, taking pictures and handing out gifts until his departure at 6 pm.
The Ronald McDonald House is just one of many stops on Robinson's list.
"We've been to Shriners children's hospital in Boston, we've been to Nationwide hospital in Ohio, [and] we've been to Montefiore in New York," said Cindy Tanenbaum, 35, Robinson's director of public relations, naming just a few places they've traveled to. "We've been to about 50 different hospitals across the country."
Robinson's custom-made bat suit costs about $5,000 and weighs 35 pounds. Each piece was inspired by a different Batman movie: the mask from Batman (1989 version), emblem and gloves from Batman Returns, boots from Batman and Robin, body suit from Batman Begins and the belt from The Dark Knight Rises. "I have a little bit of each," he said.
The "Batmobile" was inspired from the original 1966 Batman movie and cost him over $300,000.
"11 years [ago], I started visiting kids in hospitals in the Baltimore, Washington DC area, and it just snowballed from that point forward," said Robinson. "I owe all that to my son, Brandon. He was obsessed with Batman, as many four-year-old kids are, and he and I decided to go to a hospital and make a difference."
Tanenbaum says that they one day plan to visit hospitals outside the states and maybe even travel across seas, though this would come with complications.
"We have a lot of requests for Europe, the problem is, it's hard to get the 'Batmobile' out there," she said. "Wherever he can drive to, like Canada, it's a lot easier. It'd be fun for [Robinson] to do international stuff, but it would be difficult to get the car there."
Next on Batman's long list of stops was Winthrop children's hospital in Long Island on Friday.
"At the end of the day you must ask yourself: 'did I make a difference?'" said Robinson. "And that answer, had better be yes."