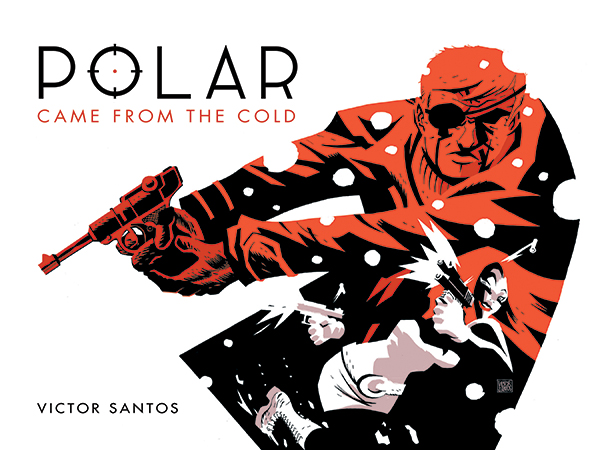 Victor Santos's Polar and Kitchen Sink Books' The Best of Comix Book to make it to comic shops in time for the busiest shopping day of the year!
As fans around the world fill out their holiday wish lists, Dark Horse announces the early release of two of the year's most anticipated collections in time for Black Friday!
Polar: Came from the Cold, by Victor Santos (The Mice Templar), is a guns-blazing espionage action-adventure in the grand tradition of Jim Steranko and Frank Miller. This graphic novel is a brutal, fast-tempo story of revenge that Newsarama says is "as ice-cold as its name." Though Polar was originally released as a silent webcomic, Santos has crafted a script as hard boiled and intriguing as his art for this hardcover collection.
The Best of Comix Book: When Marvel Comics Went Underground! is a collection of the long-out-of-print underground Comix Book series (1974–1976), originally edited by Denis Kitchen and Stan Lee for Marvel Comics. The collection includes work from underground creators such as Joel Beck, Kim Deitch, Justin Green, Harvey Pekar, Trina Robbins, Art Spiegelman, Skip Williamson, and S. Clay Wilson. The book features an introduction by Lee, a foreword by Kitchen, and an essay by James Vance (Kings in Disguise), accompanied by unpublished artwork, photographs, and correspondence from Kitchen's archives.
Both Polar: Came from the Cold and The Best of Comix Book: When Marvel Comics Went Underground! move up from an original release date of December 11 to a November 27 on-sale date. Now, that's something to be thankful for! Look for these at your local comic shop next Wednesday!
About Dark Horse
Founded in 1986 by Mike Richardson, Dark Horse Comics has proven to be a solid example of how integrity and innovation can help broaden a unique storytelling medium and establish a small, homegrown company as an industry giant. The company is known for the progressive and creator-friendly atmosphere it provides for writers and artists. In addition to publishing comics from top talent such as Frank Miller, Mike Mignola, Neil Gaiman, Brian Wood, Gerard Way, Geof Darrow, and Guillermo del Toro, and comics legends such as Will Eisner, Neal Adams, and Jim Steranko, Dark Horse has developed its own successful properties, including The Mask, Ghost, Timecop, and SpyBoy. Its successful line of comics and products based on popular properties includes Star Wars, Mass Effect, Buffy the Vampire Slayer, Aliens, Conan, Avatar: The Last Airbender, Halo, Serenity, The Legend of Zelda, Game of Thrones, and Domo. Today Dark Horse Comics is the largest independent comic book publisher in the US and is recognized as one of the world's leading publishers of both creator-owned content and licensed comics material.