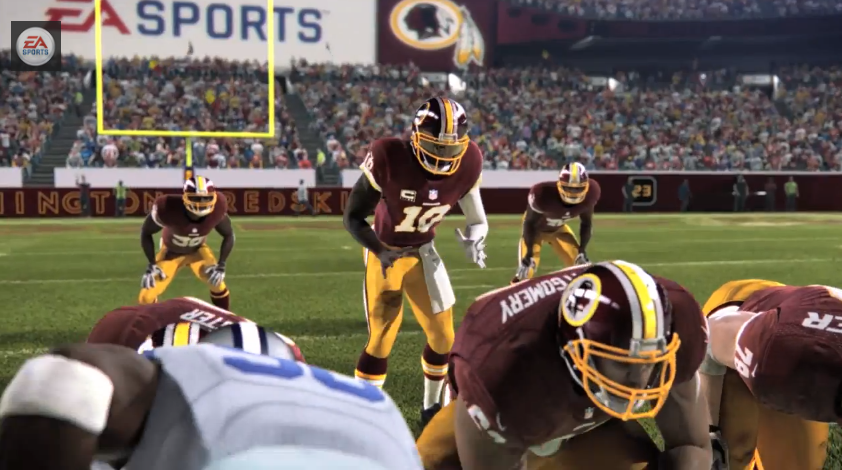 The Museum of the Moving Image hosted a press event Wednesday to explore the history of the wildly successful video game franchise, Madden NFL, presented by Hall of Famer and NFL network analyst, Marshall Faulk.
At the event, a slideshow was shown which examined every innovation made within each installment of Madden NFL, beginning with "the first ever time a player could play true 11-on-11 football," with the debut of John Madden Football in 1988 on the Apple II, and concluding with the introduction of the Ignite Engine for EA Sports' most recent title, Madden 25, on PlayStation 4 and Xbox One.
Pro footballers Cam Newton (QB, Carolina Panthers) and Michael Vick (QB, Philadelphia Eagles) were also in attendance, as well as Andrew Anthony (voice of "EA Sports, It's in the Game") and Madden's engineering director, Dave Swanson.
Five games were available for hands-on after the conference: John Madden Football on Apple II, Madden NFL '94 on Sega Genesis, Madden NFL '99 on PlayStation, Madden NFL 2005 on Xbox and Madden NFL 25 on Xbox One. The games will continue to be playable until the "Madden NFL: 25 Years and Running" exhibition leaves the museum on February 23.
A dynamic timeline of the game's development is also featured in the exhibition, including gameplay footage from each year.
Here are some of the series' milestones highlighted on Wednesday:

1988: John Madden Football makes its debut.
1989: The series moves to SNES and Sega Genesis.
1991: Instant replay is introduced.
1993: Andrew Anthony becomes the voice of EA Sports.
1994: NFL players are licensed.
1996: Madden makes its PlayStation debut.
1998: "Full on 3D characters" and Franchise Mode are introduced.
2000: Eddie George becomes the first ever NFL athlete to be featured on a Madden cover.
2001: Fans could now make their own team.
2002: Online play is introduced.
2004: The "Hitstick" is added.
2005: Quarterback vision is added.
2008: Virtual Trainer and Tutorial Mode are included.
2009: Gang tackling is introduced.
2010: Ultimate Team mode is added.
2011: Players can make custom playbooks.
2012: Infinity Engine is introduced.
2013: EA introduces the next generation of Madden with the Ignite Engine.
"I've had a lot of console transitions now, going from PlayStation, PlayStation 2 and of all the different generations that we've done, and every time it's a new and exciting challenge because there's new hardware and you have to figure out how to use it," Swanson told ReviewFix. "But it's also awesome because your box is just so much bigger. If you wanna add a lot more features you can stuff much more into it, much more quickly because you don't have the constraints of the hardware to deal with.
[The Ignite Engine] makes things easier, it gives us a good basis of technology to innovate on top of. A lot of times if you're creating a game and you need to create your technology, you're starting kind of from ground zero and you spend so much time only on technology that you can't spend as much time making the game. Where the idea here is we've got a great bass of technology that we're just building a fun game on top of so we don't have to spend so much time with that."