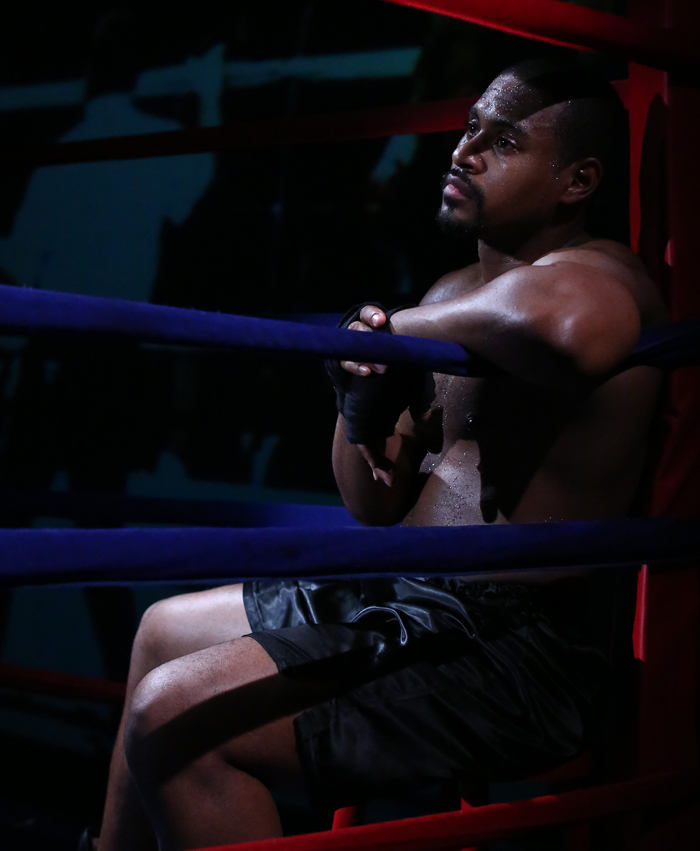 Review Fix chats with actor Dennis A. Allen II about his performance in Reid Farrington's "Tyson vs. Ali," a gripping new production that brings the long thought about dream bout to the stage.
Review Fix: How did you prepare for the role?
Dennis A. Allen II: I watched hours of YouTube clips of both men. We trained at Gleason's gym for two months to develop our boxing techniques. Jonathan Swain is the only one of us that is a true boxer (he went Pro) so the three of us would spar him… There's a Tyson quote we use in the show, " nothing's more humbling than getting your ass kicked". Yeah… it is very true.
Review Fix: What was it like to work with Reid Farrington?
Allen II: Reid is great to work with, he has such an innovative and technical mind and he's extremely open to ideas that are not his own. This project was such a collaborative effort from all aspects. What really impressed me was the team Reid assembled; from Laura's brilliant choreography to Christopher Burris' contribution to our acting, Juan's immersive soundscape; everyone; lighting, video editing, it was what theatre is supposed to be an ensemble.
Review Fix: For someone who hasn't seen the production, how would you describe the multimedia aspect?
Allen II: Intense.
Review Fix: What's your favorite part of the production? Why?
Allen II: I can't answer that. It's like asking a parent who their favorite child is.
Review Fix: How do you want your performance to be remembered?
Allen II: The beautiful part about this production is that ones worldview will dictate how they experience the show, so everyone connects to it in a different but very visceral way. How my performance is remembered is not important to me, just that it is remembered; that I do connect to the audience in a way that makes them feel something, anything as long as they feel.
Photo by Paula Court
For more information on the show, visit www.3ldnyc.org.