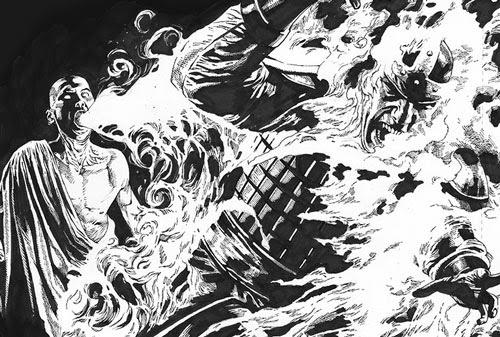 "Harbinger" is one of Valiant Comics' longest running and most well-respected series and the upcoming Bleeding Monk arc gives an impression that the reader will be in for one wild ride.
Written by Joshua Dysart with art by Mico Suayan, Khari Evans, Stephen Segovia and Lewis Larosa, the story tells of the Bleeding Monk, who has gone missing for over a year. When he returns, he revealed the secret to how he came to be- among other secrets.
The early pages look very promising. The artwork makes the story look very dark and very gory. Even without any dialogue the art makes this comic look like it's going to be one of the craziest stories of this year.
Some examples of the craziness include one page showing Chinese soldiers killing monks. Just the idea alone is enough to turn heads, but the way it is presented you can feel the horror going on in the scene. Another scene shows a naked character with an insanely long beard fighting in the snow. This looks like it can be an emotional scene if done correctly and it had a point.
Of course, there is a chance that this comic can be all flash and no substance. The art makes it looks nice, but the story could give the Bleeding Monk a really stupid backstory that could be as bad as what Marvel and DC have done with their characters in the past few years.
Bottom line- "Harbinger: Bleeding Monk #0" is intriguing, but the story had better live up to the art or this will be a well-polished dud.