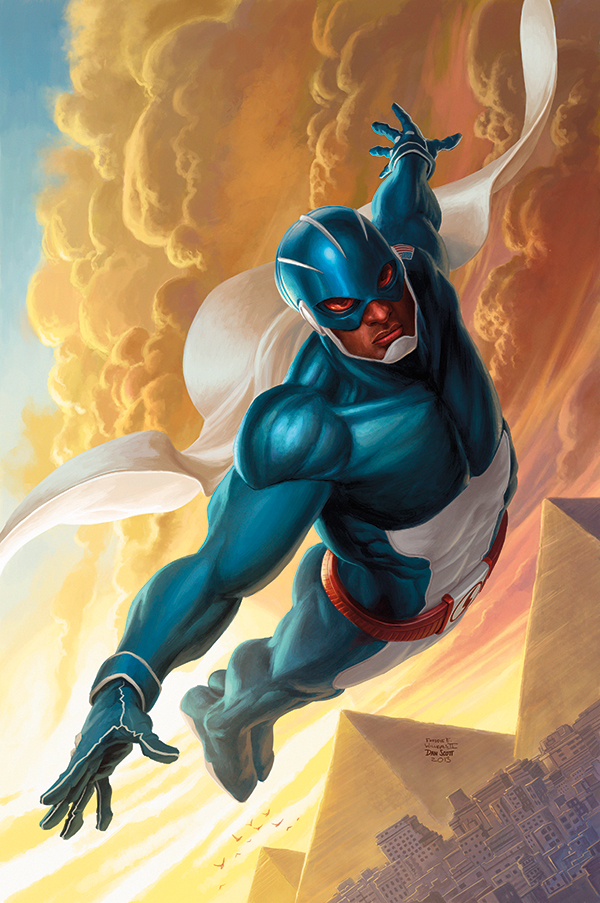 Review Fix chats with Skyman writer and creator Josh Fialkov who discusses the new series from Dark Horse comics. An ode to the work of Ed Brubaker and Greg Rucka with Fialkov's signature writing style and the art of Manuel Garcia, Skyman is getting a mega-sized push from Dark Horse this year.
Review Fix: What was the inspiration for this series?
Josh Fialkov: I wanted to tell a pulpy fun superhero story, first. Â I think there's a void in that front in comics right now. I'm, obviously, all for reinventing the medium and what it's for, but, there's also room to do some classic superheroing and show people the backbone of comics in its best form. But, with that, there's the idea that we can tell smarter and more complex stories. I look at the work that Ed Brubaker and Greg Rucka do, and how what they do says something about the medium and about our world simultaneously. So, that's me aping them to the best of my abilities.
Review Fix: What are your goals for it?
Fialkov: I'd love to have Eric be a character who survives in peopleâ's minds. I think there's a lot there with him, and that at the end of this story, there'll still be way more to do with him.
Review Fix: What are Eric Reid's best and worst traits? How will it influence the rest of the series?
Fialkov: That's the hardest part about creating a character from scratch… Figuring out his flaws and the things that make him interesting while still making him someone to root for. Â I think there's a lot of damage in his past that's a good amount of his challenge. Â The physical stuff obviously, but also the emotion of having been a leader and failed. Â He was a man who was trusted to care for those around him, and he let those men die. Â How much he believes that, and what he does with it is both his motivating character trait, and the thing he's overcoming.
Review Fix: What was it like to work with Manuel Garcia?
Fialkov: Manuel's great. Â He's especially terrific at the airplanes. Â When you see what he does in issues 2, 3, and 4 with the jets, you'll be blown away.
Review Fix: How did he make the character his own?
Fialkov: I think with any new character, there's a learning curve of making not just the character, but the tone and the body language feel right. Â I think every issue we see more and more of that.
Review Fix: Who do you think will enjoy the series the most?
Fialkov: I'm hoping it has a pretty wide appeal, certainly for fans of superheroes, but, also for fans of political thrillers and military stories. Â So, y'know, the range from Captain America to House of Cards to JAG. Â Let's make that happen, people.
Review Fix: How do you think it's different from other series out there?
Fialkov: Like I said, I think there's a dearth of classic style pulp superhero stories out there, and Dark Horse is certainly remedying that. Â As opposed to the other Dark Horse Superhero books, I think there's a bit more 'gray' to Skyman than there is to the other guys. Â Eric is still learning to be a superhero and the consequences of his actions…
Review Fix: Without giving anything away, what should fans expect from the series moving forward?
Fialkov: More action, more adventure, and, best of all, more ass-kicking superheroics.
Review Fix: How do you want it to be ultimately remembered?
Fialkov: I'd love for Skyman to play a bigger long term part in the Black Sky stuff that Dark Horse is doing, and I think, I might just get my wish.