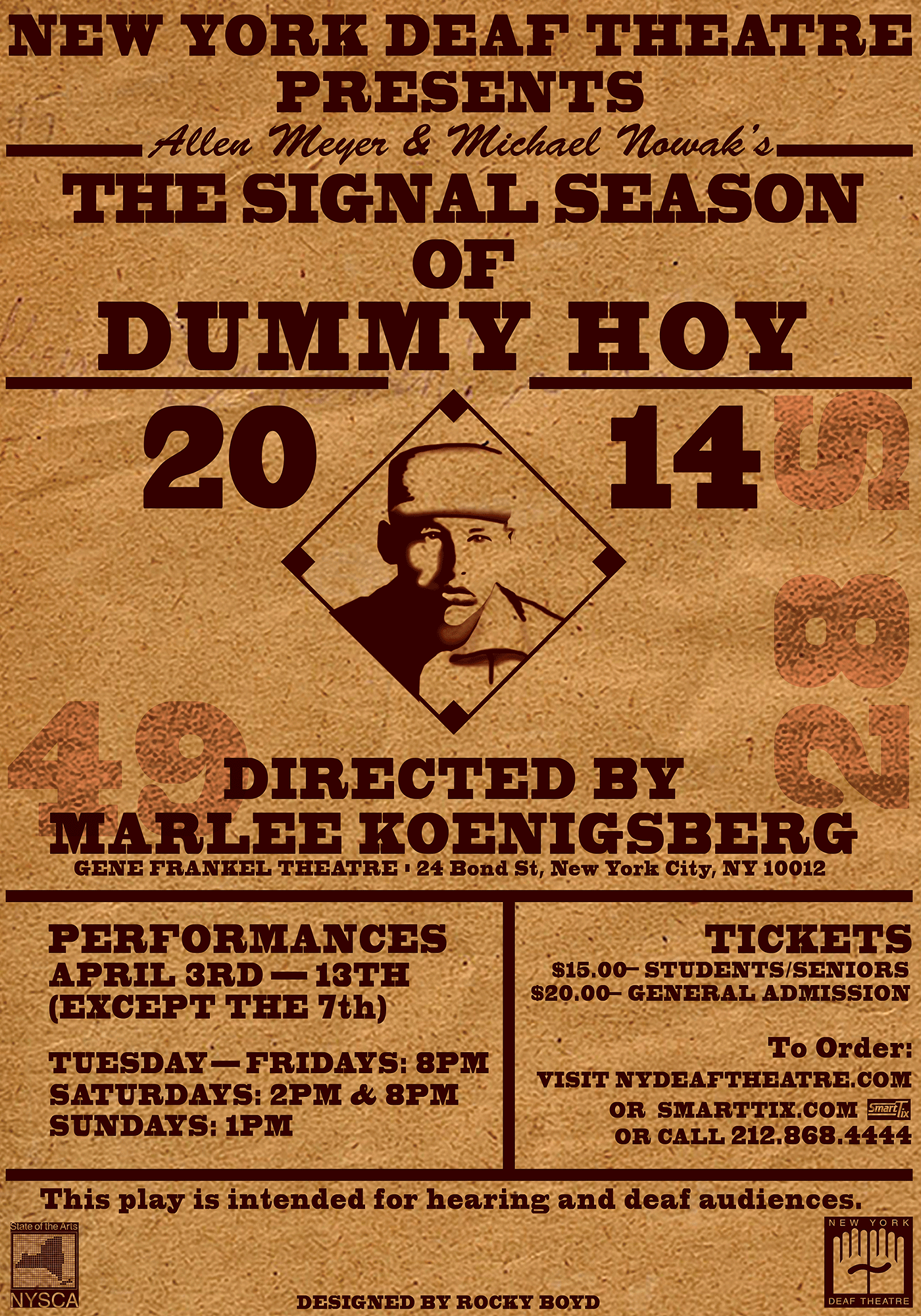 Review Fix chats with "The Signal Season of Dummy Hoy" director Marlee Koenisberg, who discusses the historical comedy of Major League star William "Dummy" Hoy and how he changed America's pastime forever.
Set for a 10-day run at the Gene Frankel Theatre, "The Signal Season of Dummy Hoy" is more than a comedy for baseball fan, it's a coming of age story that reminds us that anyone, in spite of their disabilities, can achieve anything.
Review Fix: What was the casting process like?
Marlee Koenisberg: The script calls for actors to have a wide range of skills, some need to be fluent in American Sign Language (ASL), others to posses the ability to convey a dynamic physical vocabulary, and of course the role of Dummy Hoy must be played by a deaf leading man.  The Deaf acting community in NY is a small one (but we hope to change that!) so it was important to me to cast as wide a net as possible into both the deaf and hearing acting communities.  I saw it as an opportunity to discover artists that I might not already know, to meet like minded people interested in working on material that combines both the hearing and deaf worlds and understand the importance of the telling of this man's story who happened to change our national pastime.  The process of the auditions was complex. Actors were asked to prepare comedic monologues and then given sides for specific characters whose qualities I felt they possessed. To discern whether they had the physical vocabulary I was seeking, in the auditions I asked many of the actors to try performing their monologues silently, without voice, and only could use their body to communicate. The actor's we've cast, rose to this challenge! Finding the right ensemble took longer than I anticipated but New York Deaf Theater's Artistic Director, JW Guido and I are thrilled with our cast.
We have a terrifically diverse group of actors that each with their own unique perspectives to bring to their roles and to the production. We cast some actors who are fluent in ASL, whether or not their role requires it, while other actors have very little to no ASL and we find this dichotomy very exciting because we discovered that we inadvertently created an ensemble whose process in rehearsal mirrors the journey of the characters' in the play.
Review Fix: What are your goals for this production?
Koenisberg: To tell the best story we can by creating a physically dynamic, visually arresting world that gives sight to sound, brings Deaf and hearing audiences together in a shared experience that gives them an understanding of the tenacity of spirit which Dummy Hoy possessed.  I certainly want to entertain, inform and move people and I think those are all worthy goals.
Review Fix: Who do you think will enjoy it the most?
Koenisberg: Baseball fans! Anyone and everyone interested in American history, or curious about Deaf culture or who has ever pursued a dream.  There is no one way to participate in the experience of this play.  It is a historical-comedy play, written for a large age range.
Review Fix: How do you want it to be remembered?
Koenisberg: As a unifying piece of theatre that investigates themes of communication and looks at the advantages of differences. If we help an audience member see difference in a new positive light, inspire them to change their perspective, then we have been successful.