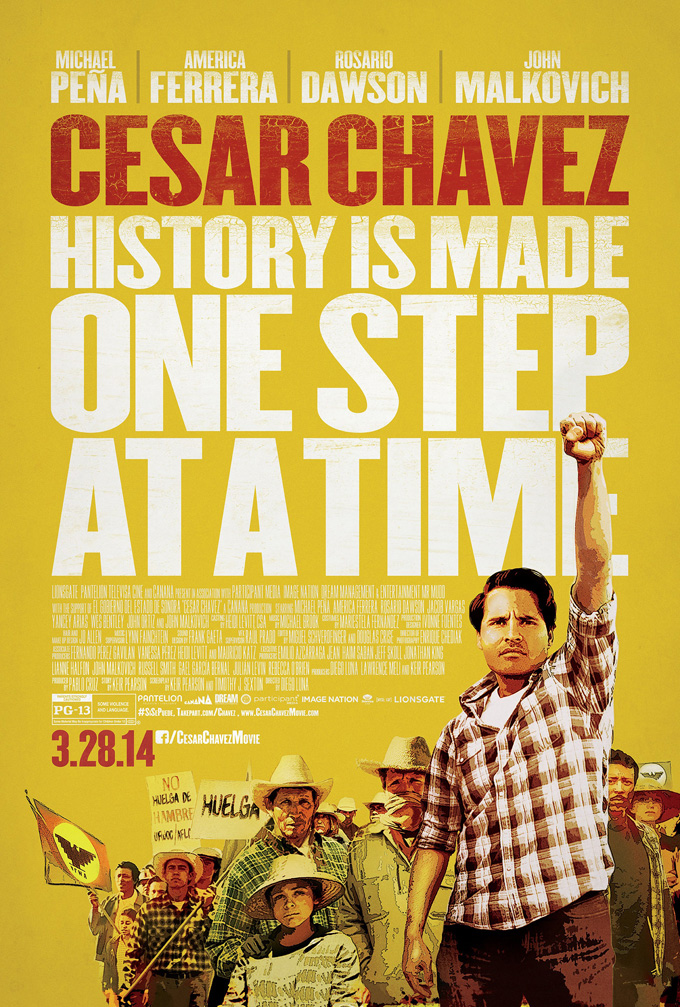 Usually films about historical figures are one-note or over-wrought for their significance to a people or country's culture. Director Diego Luna's "Cesar Chavez" is an attempt at making a film that is as relevant today as it was during the 1960's. This end product is an uneven but deeply thought provoking film about struggle, classes and the struggle for rights.
Luna, known for his work in 2004's "The Terminal" and "Elysium," takes a turn behind the camera and as a producer of this film under his new Canana production studio with the backing of Lionsgate and Televisa productions.
As Chavez, played by Michael Pena, struggles with California produce growers, embodied perfectly by John Malkovich; Chavez's family pays the price firsthand. They uproot from Los Angeles in the very first minutes of the film for the pastures and flatlands of Delano, CA. The film hurries through this part of his life with little fanfare or importance which detracted a bit from the struggle his family endures when they move to the countryside.
Pena, alongside America Ferrera, who plays Helen Chavez are magnificent together. It is their interaction during the films family scenes that paints a picture of struggle with family duty and duty to a cause. This was supposed to be relegated to the scenes in which Chavez interacts with his son Fernando (Vargas); however those seem to be more of a mechanical tool to keep the story moving forward rather than a reason to see how difficult the struggle for rights made the lives of his family.
Despite this Luna and Pena breathe life to the struggle faced by many immigrants in the fields of California. Pena shines as Chavez, a rare commodity for an actor that has been relegated to small part in Oscar worthy movies such as "Crash' and "American Hustle" or as comic relief in "Tower Heist."
Luna's is masterful at recreating the birth of the United Farm Workers organization in the 1960s. He paced the creation of this union and the key characters in it a hurried manner most likely because of his inexperience as a director. Despite this the movie uses archival footage and recreates some historic scenes to portray the sometimes violent struggle between the workers and the growers.
The farm workers attempts at strikes are met with intimidation and brutality, from the local sheriff and hired goons. Quickly Chavez and Dolores Huerta, played by Rosario Dawson come up with new tactics, including a public fast, consumer boycott of growers' grapes which impacts wine sales and puts a hurting on growers' wallets. But the most notable one for the film was a 340-mile march from Delano to Sacramento which mixed the archival and recreated footage to show a sacrifice from the union leaders and the immigrant workers that decided to stand with them and a 25-day fast that took a heavy toll on Chavez only to draw the attention of Robert F. Kennedy and Ronald Reagan, then California's governor.
But Luna makes sure to paint a picture of the opposition as well. Not all of them are slur slinging bigots or caricatures of evil landowners. Bogdonovich, played by John Malkovich is determined to break the rebellious union, and the fight between the two men and their organizations becomes a national political issue; but strictly a financial one. It never becomes personal or racial between the two rivals which serve as a refreshing and important change to the traditional biopic structure.
Bogdonovich, an immigrant himself reminds the other growers of the struggle to build his empire and how one should not look down at their struggle but respect their position and hold until someone blinks, which eventually the growers did.
Luna stumbles a bit through the film. However, solid acting from Pena, Ferrera and Malkovich help paint a vivid picture of one of the great heroes of the civil rights area. It does straddle the line between biopic and relevant topic as Chavez is still vividly entrenched in our culture today.
Chavez, who died in 1993, was fighting for these rights most of his life. Born an American and dying doing what any American would do, getting equal rights and fair pay, his struggle is our current struggle. The struggle for the under-appreciated and overworked farm worker to get his fair share is still happening on farms around the country and the world. It is an issue that we live with everyday and every time we take a bite of an apple or grape.
The film struggles to depict the long and complex work of organizing people to defend their own interests. What it does very well is make you consider how hard someone worked at picking that apple or pear you so carelessly fondle at a fruit counter. In that Luna and Pena leave you wondering if the world is just for all and if you have a cause that you believe in enough to sacrifice your life for and like for Chavez that thought that emotion means that he was successful in making your believe in something no matter how small.