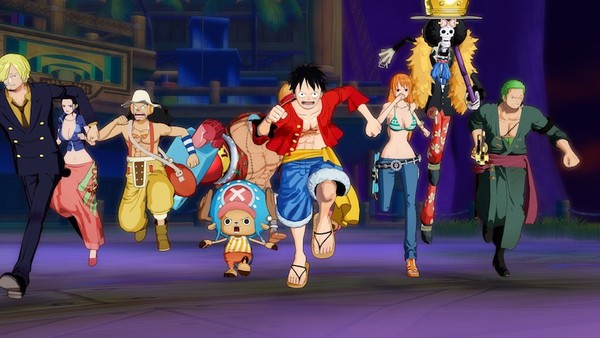 There are very few shows that can boast a success of running 15 years, so when one mentions "One Piece," it is safe to say that any fan of anime will immediately recognize the name. Packed full of action, excitement, and a great deal of customization the latest video game adaption of the series, titled "One Piece: Unlimited World Red" has once again been brought to the United States. Unlike the last one though, the endless smashing of enemies is brought to more than just the 3DS with an accompanied release on the Playstation 3 and Vita as well.
The game offers a very "Monster Hunter" feel to it, giving players the ability to either go solo on missions or team up with their friends to tackle the harder missions for better rewards. The twist is that players create a team of up to 3 members of the infamous Straw Hat Crew, each with their own unique set of skills and attacks. The StreetPass option also allows players to create their own bounty poster and share with those around them, creating your own unique persona.
The most fantastic aspect of the game has to be the story itself though. Series creator Eiichiro Oda worked on a brand new story featuring not only memorable characters, but brand new ones created specifically for the game.
Ironically enough for being title Unlimited World the maps do start to feel quite repetitive, sending you back to the same areas you have already been before. The creators do an excellent job offsetting this though by introducing a cast of colorful characters to keep the story captivating. Boasting this colorful story featuring characters old and new, "One Piece: Unlimited World Red" is a must have for any fans of the long time series.
Make sure to do it as soon as possible though, those who purchase the game early enough also receive access to a very colorful costume set for the Straw Hat Crew to celebrate the 15th anniversary of One Piece.