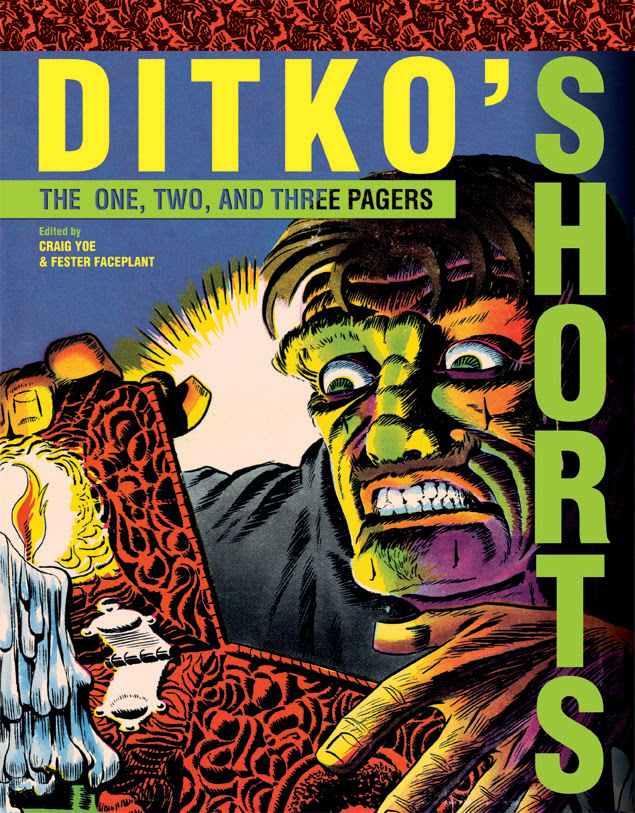 Compilation of Ditko's Short Comics Coming This November
IDW Publishing and Yoe Books continue their incisive look at Steve Ditko's work with Ditko's Shorts coming this November.
Craig Yoe exclaims, "To put it short: Steve Ditko is 'Ditko hands' down the greatest living artist from main stream comics! His mastery is especially apparent in these amazing short stories where he's in, he's out and your mind has just been totally altered!"
Ditko may best known as the artist and co-creator of larger-than-life characters like Spider-Man and Doctor Strange but did you know that he could also work on a smaller (or short) scale and achieve very big results? Ditko's Shorts is a fun and incredibly fascinating compilation of short comics one, two, and three pages in length, showcasing that only a brilliant master like Ditko could tell such dramatic and compelling tale in such compact form.
Taken from rare comic books from a who's who of publishers, all the short comics collected for this volume have been meticulously restored and printed in a beautiful, large-format book. The genres show Ditko's great range as he easily navigates horror, fantasy, science fiction, western, and even humorous stories. This is a snapshot of his career that is not to be missed!
Also not to be missed are the insightful introductions by punk rocker and comics historian Fester Faceplant and Eisner Award-winner Craig Yoe.
"More than just a hat-trick of Spider Man, Dr. Strange, and Mr. A, this collection is a perfect showcase of Ditko's mastery of any genre he put his stamp on," said Fester Faceplant.