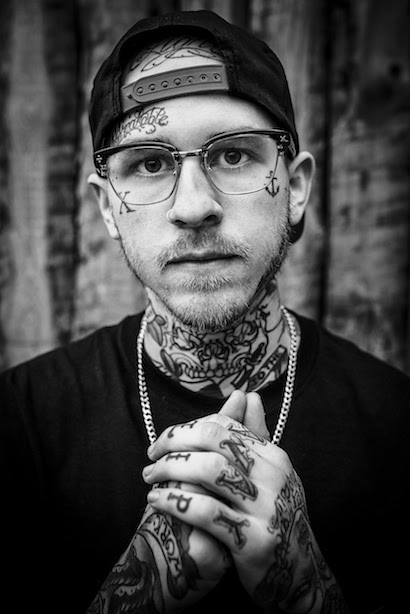 Review Fix chats with singer/songwriter Grey Gordon who discusses his recently released album "Forget I Brought It Up." With a series of acoustic work already under his belt, the talented young singer and lyricist tries his hand at a different type of sound. Discussing the journey behind the album, Gordon gives us an inside look at his creative process as well as sharing some of his favorite musicians you might not expect from him.
Review Fix: How is this album different than your previous work?
Grey Gordon: Up until this point, all of the music I've released has been predominantly acoustic. With this record, I really wanted to make a record that could fit alongside the indie rock records of the 90s I grew up listening to. Pretty much everything about this record is different from my previous releases, but then again, I think there is still common thread connecting everything.
Review Fix: What have you learned about yourself during the writing of this album?
Gordon: So much. The process of writing and recording was so emotionally and physically taxing. Tons of sleepless nights, revisions, 12 hour studio days, etc. If anything, I learned how to push my limits and hold myself to the highest standard possible. The whole experience imbued me with a new sense of direction, and I feel totally rejuvenated because of it.
Review Fix: What song do you think has the best story behind it? Can you share?
Gordon: That's a tough one. Maybe "Revelation Summer." That song is about taking my first steps into the larger world of the music "industry," so to speak, and realizing how much of it is smoke and mirrors. It's about meeting your heroes, and subsequently realizing they're just as fucked up and lost as yourself. It was a crazy process of discovery for me, and it still is. Furthermore, it addresses the very real fear of failure that comes with even a marginal degree of success or recognition. Now that there are eyes on me, what happens if I don't live up to expectations? My dream is now inches away from being fully realized, but what if I fall just short and never get this chance again. That's a terrifying thought.
Review Fix: What song do you think has the ability to grow on people the most?
Gordon: I would say "Count Me Out" is the biggest grower on the record, most likely. For me, it was immediately one of my favorite tracks, but that's because I'm a hardcore kid. This song is definitely the most straight ahead and obviously hardcore influenced track I've composed thus far. The title and outro chorus of "count me out" is a nod to Bane. I loved how so many 90s indie rock bands would throw a fast paced punk song into the middle of otherwise mid tempo records, or how the Beastie Boys would throw hardcore tracks on hip-hop records. I just felt it was important to give a blatant shoutout to my roots.
Review Fix: Who are some artists that inspire you that people may not expect based on the way you perform?
Gordon: I think it surprises some people to learn how into The Smiths/Morrissey I am. I don't hide this fact whatsoever – I have Smiths lyrics tattooed on my face – but it's not necessarily apparent in my songwriting. Also, 98 percent of what I listen to in my free time is rap, and that definitely creeps into my performance, writing and lyricism in subtle ways. It's never overt, but it's there if you look. Also, there is a lot of literary inspiration there if you read between the lines. I take inspiration from everything I enjoy, and I don't think people always expect my tastes to be as eclectic as they are.
Review Fix: What goals have you set for yourself for this album?
Gordon: I hope this record turns kids onto things they've never been exposed to before. I included a suggested reading and listening list in the liner notes, so ideally, that will present listeners with some new material to ingest. And of course, there's always the hope that one's music will reach a wider audience than before. Honestly, I think this stuff has the potential to be less sonically appealing to some people, but it also has the potential to reach a totally new demographic. That's an exciting prospect.
Review Fix: What do you think you have to do to achieve the success you want to in the music industry?
Gordon: Work, work, work. Never stop looking directly ahead and setting goals. Every time I achieve a goal, I set a new one. Right now, I've got a five year plan, and I'm just taking it step by step. I have no real aspirations to be a household name, but I'd be lying if I said I didn't want my music to reach every possible ear. I think it's a tightrope between never compromising one's integrity, and achieving the goals one has for oneself. So much of what I do is still DIY. I still essentially manage myself, book my own tours, etc. I think moving into a realm where I have some people working for me on that front will help. Ultimately though, I just want to be as prolific as possible. Keep putting out content in the form of music, literature, zines and everything else I'm interested in. Success is relative. I might never make a living on this, but as long as people want to hear what I have to say, I'm going to keep spreading the good word.
Review Fix: For people that have never heard you perform, why should they check this album out?
Gordon: Because I worked really hard on it, and there's at least a passing chance you might find something valuable in it. If you dig loud indie rock, you could very well dig this record, and if you don't, maybe this will change your mind. I can't really argue for the objective worth of any piece of art, so I can't sell anyone on this album, but I'd be mad stoked if you listened to my shit. That would be dope.