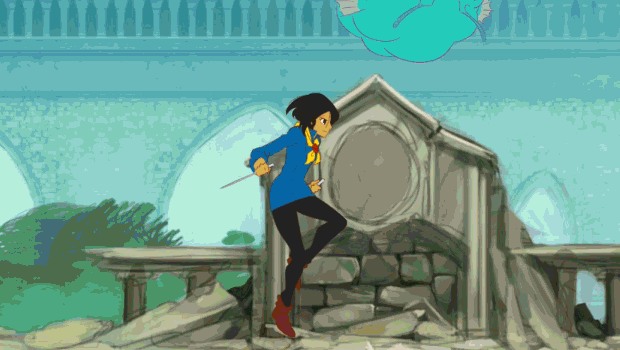 Review Fix chats with Trinket Studios' Tom Eastman, who discusses the developers' new Kickstarter promotion for "Battle Chef Brigade," a unique platformed, hunting, cooking experience set for a Steam, PC, Mac and Linux release.
With an excellent soundtrack, unique hand-drawn visuals and a cool cast of characters, it's a game that has to be seen to be believed.
For more information on the game, click here.
Review Fix: What inspired the creation of this game?
Tom Eastman: Our biggest inspirations were all cooking competition shows: Iron Chef, Chopped, and Master Chef. We love the elaborate sets and costumes of Iron Chef, the rapid-fire creativity of Chopped, and the chef-driven narratives in Master Chef. After a draining morning of brainstorming our next game, we say down to watch the Food Network during lunch and something just clicked. On the spot, we came up with a food-based puzzle game that's nothing like Battle Chef Brigade! From that point, we started mixing in fantasy elements and characters until we felt like Battle Chef Brigade felt like a complete concept.
Review Fix: What has the development cycle been like?
Eastman: We're big fans of "finding the fun" with prototypes, so we started development exploring different cooking mechanics. With our goal of creating a fun, open-ended system, we tried just about everything we could think of. One of our favorite prototypes was a full-on simulation of food properties and how they change when boiled, fried, and baked. There's definitely a hardcore game there that someone should make, but it was far too slow and math-based for an action game.
Review Fix: How much time and effort went into the visuals of this game?
Eastman: A huge amount! Luckily, we've been building our 2D art and animation pipeline since Trinket's first day. Eric, our Creative Director, specializes in 2D animation and illustration, so we knew from the starter that playing to those strengths was paramount. Every monster and chef requires a lot of Photoshop time to get right, which is why we've brought on two Colorists to help Eric out. One of the goals of the Kickstarter is to be able to continue finding help!
Review Fix: Who do you think will dig this game the most?
Eastman: There are a lot of different folks who find "Battle Chef Brigade" thrilling. We've had a very strong response from chefs or all sorts who haven't been satisfied with cooking in games so far. Fans of gorgeous art are also into the game, especially because we're not using pixel art. And then, of course, are the gamers who are looking for fresh experiences to play since we're making something very unique.
Review Fix: What games did you play as a kid? Have they influenced this one?
Eastman: I played a ton of Halo, Starcraft, Pokemon and Super Smash Brothers growing up. The latter two of those have certainly influenced my design goals for BCB. Pokemon does a phenomenal job categorizing its monsters, which is important for players of BCBÂ so they know which ingredients to hunt for. Super Smash Brothers, of course, has influenced some of our Arena platforming combat.
Review Fix: Why should someone contribute to the Kickstarter?
Eastman: If you love beautiful art, fresh gameplay, or supporting passionate indie developers, "Battle Chef Brigade" is the perfect game to support! This is the dream game we've been preparing to create for our whole lives.
Review Fix: How are the rewards different from other Kickstart projects?
Eastman: We made an attempt to simplify our rewards and make them more valuable at every level. That's why the second tier includes the game's digital soundtrack and art book. At the top end, we're offering opportunities for backers to become really visible parts of the game.
Review Fix: How important is this game to the future of Trinket Studios?
Eastman: This game is the future of Trinket. When we quit our jobs at Wideload / Disney, we wanted creative freedom and the chance to make something we're truly proud of. "Battle Chef Brigade" is shaping up to realize those dreams.