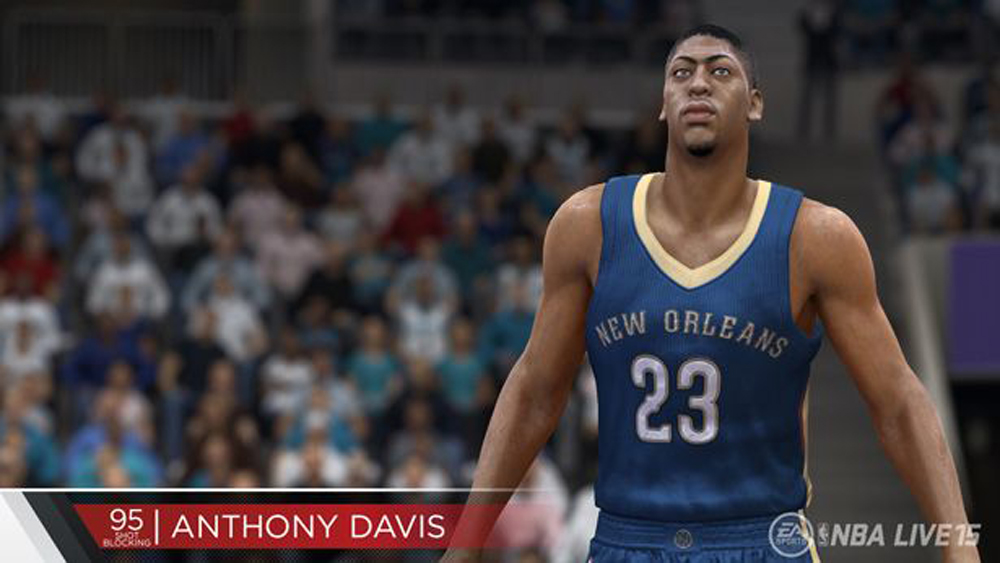 NBA Live was once the king of basketball games. From 1995-2006, Live dominated the basketball gaming world on every console. But with the arrival of a new era of gaming also came the arrival of a new king of virtual basketball, 2K sports' NBA 2K series. This shift in the basketball gaming world was a crippling blow that EA Sports struggled to recover from which even caused the cancellations of NBA Live '11, Elite and '13. Now returning after its "NBA Live 14" release from last year, "NBA Live 15" looks to breathe new life into a once forgotten franchise.
While it ultimately becomes a game that you can enjoy, it's not the only game in town. For that reason alone, "NBA Live 15" fails to hit the three at the buzzer. It's sad in a way considering how much better it is than last year. It's just not the same experience as "NBA 2K15."
With smooth graphics and awesome visual effects, "NBA Live '15" has a nationally televised basketball game presentation. The ESPN presence is felt with an in-depth halftime report that is accompanied by a ESPN side panel news slider. The halftime show may be a tad bit long, but the highlights and side sliding sports ticker gives you that feel that you're at home watching the game on a Friday night.
Aside from the halftime show, certain player's look and feel like their real-life counterparts. In Live '15, Kobe Bryant even with a distasteful 87 overall (Give EA a break though since they had no clue Bryant would be averaging 27 PPG, 5 RPG and 4 APG, but then again he is called the Mamba and has five rings for a reason) actually plays like Bryant. We've all seen Bryant split between two defenders engage contact and finish over the top with the easy right hand layup which the game recreates so well.
Though NBA Live '15 presentation is as looks sharp as a brand new tailored suit from Men's Wearhouse, you ever so quickly notice that suit is actually from JC Penney's.
After the all the flash of the presentation is gone, and you get an exhibition going, you start to notice all the the things that are missing from Live '15 that makes fans love the 2k series. Infamously missing is the cutting and has been for years. What makes a simulation basketball game as realistic as possible is how players react off the ball. In Live '15 since your teammates rarely move unless you tap the run play button, the majority of the time it's like you're running a Mike Woodson 1-on-5 offense.
Another problem is that rebounding is like night and day. There is no such thing as a defensive rebound in Live '15. Trying to rebound on defense with a great rebounder such as Kevin Love is damn near impossible. Rebounding is so hard on defense that it makes Love look as effective as Brook Lopez and Roy Hibbert in real life. Offensive rebounding is definitely no problem for the computer to grab for you, but instead of being able to go straight up with the ball quickly, the rebounder feels the need to squat so low giving the defenders the best chance of sending your shot into the crowd like Dikembe Mutumbo.
"No no no- Not in my house."
Moving on to the "Rising Star" game mode, it's just a mediocre version of 2K's "My Career."
Creating your characters physical appearance is much better than 2K since EA takes ethnicity into consideration for hairstyles. In 2K every ethnic-created character either has a receding hairline or looks like they're wearing a cheap hair-piece. Unfortunately that is actually the best part of the "Rising Star" mode, unless you don't mind automatically being the most dominant rookie in the game. As soon as you're done setting your play style, you're in the high 70s which is a few points lower than some of the leagues top young stars such as Lance Stephenson and Jimmy Butler. You're so good that no matter what position you play in the pre-draft Jordan showcase game you can easily come out with a 20-plus point performance.
Where's the challenge? Also what's up with some of the rookies? Did EA forget the draft goes beyond the 5th pick because Joel Embid and Eldrige Payton have the exact same face. EA also must have forgot to place the second round players in this mode because Clay-Anthony Early is clearly on the Knicks roster in exhibition mode but doesn't exist here. One last thing about this mode, can anyone explain why you can't retire and are doomed to play a 25-year career?
The "Dynasty" mode is pretty cut and dry simple. You pick a team good or bad and try to either rebuild for the future, win some games or win a championship right now. You get the freedom to trade players and negotiate contracts for both players and coaches alike, so all in all a pretty simple and decent game mode for those into playing as a whole team to win a champion rather than controlling one player.
The last feature is the "Ultimate Team" mode. "Ultimate team" is kind of strange and can cause one to get lost pretty easily. It's a mode that without a good enough explanations will cause you to end up punching in a random number of buttons till you eventually end up playing a game with a lackluster roster of thrown together players and one star … sounds a lot like the Nets before they moved to Brooklyn.
In the end, "NBA Live '15" has a number of flaws that will definitely keep them from regaining its crown as the king of basketball games. Regardless it's still a game you can manage to have some fun with. As compared to NBA 2K, "NBA Live" looks like an up and coming and talented second-year pro, next to a seven-time all-star with multiple championships. Though an improved set of visuals and presentation isn't enough to place them ahead of 2K, it's a step in the right direction, but ultimately only a step.