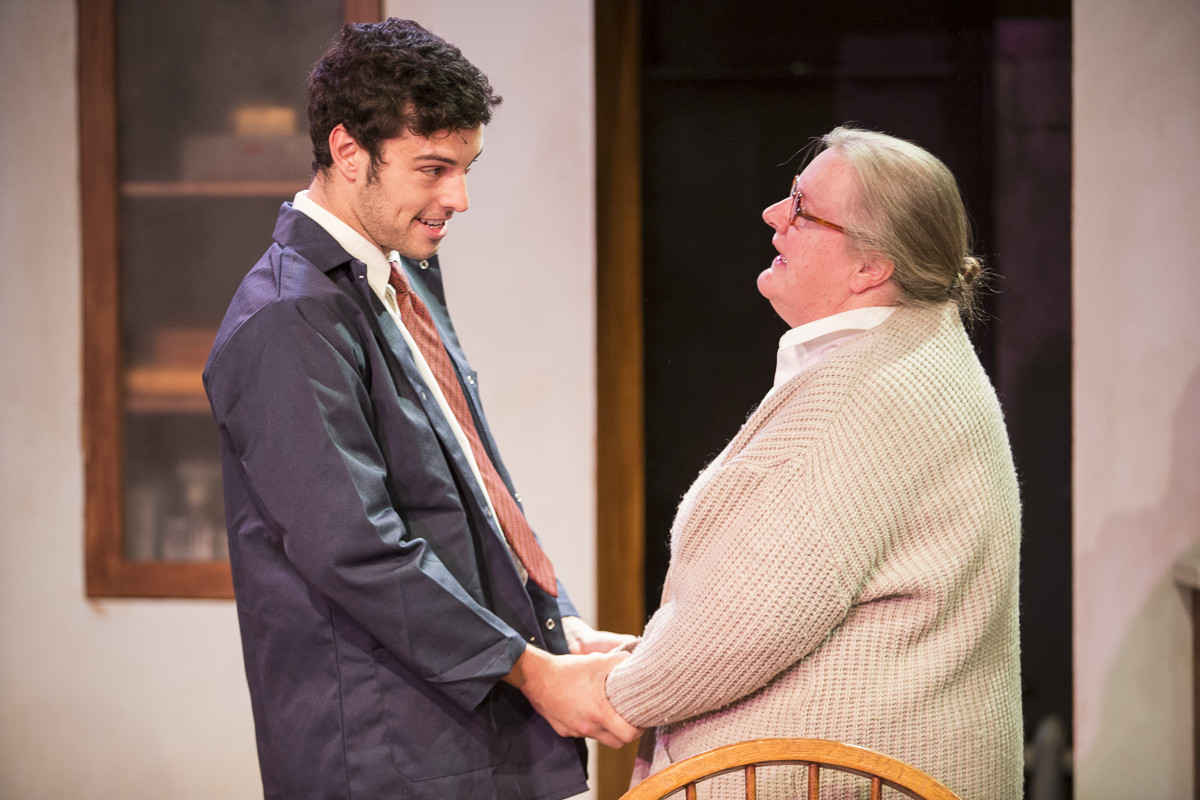 A story of an Irish immigrant-to-be on the verge of leaving his past behind and beginning a new life in America, "Philadelphia, Here I Come," written by Brian Friel and directed by Jake Turner, lets us into the protagonist's mind and discloses mixed feelings he has about this change. As we learn the tale of his disappointments and hopes, we begin to feel for Gareth O'Donnell (Daniel Leonard), whose indecisiveness and insularity has ruined so many of his relationships.
Telling us his side of the story, Gareth's inner voice, played by Jackson Mercado, not only lets us peek into his head, but also entertains us with his saucy, critical sense of humor.
Though the play, undoubtedly, explores such important themes as immigration and relationships between lovers, friends and family members, the theme of memory remains central. The way we relate to one another and the most important decisions we make in life often have a lot to do with what we remember. And though the characters of the play do not realize it, sometimes our memories, the threads of past happiness we hold on to, are far from the truth, or, at least, dissimilar to associations other people have with the same events. For that reason, if the trifles we cherish mean nothing to someone, it does not tell us that we mean nothing to that person; it may just be that the person has his or her own precious moments from our shared past.
One example of this is the relationship between Gareth and his father, Sean O'Donnell (Terrence Keene); they are so much alike in their inability to express their feelings. Each has tender memories of times they spent together, which he keeps to himself and hesitates to reveal to the other. This results in misunderstanding and estrangement just as we (as well as the protagonist) think the connection is about to be established and give Gareth a reason to stay at home, where all the action in the play takes place.
And even though he does not realize it yet, Gareth is strongly attached to his hometown. By leaving it, he abandons not only his father, but also his friends and a kind old housekeeper Madge (Lucy Avery Brooke), who cares for him as though he were a member of her family. Not only did she see him grow up, she also shared with him her memories of his mother, who died three days after Gareth was born. The image he composed of her, based on Madge's words, is quite a romantic one, "She carried her shoes in her hands until she reached the end of town; then she put them on." She was 19 when Sean was 40, a young, beautiful and popular woman, who went with many guys because, as Madge puts it, "she couldn't help herself."
The only other person (since his father does not talk to him about anything but business and petty everyday things) who can tell him about her is his Aunt Lizzy (Noelle McGrath), with whom he will be staying in America. A complete opposite of his father, the auntie is a chatterbox, who jumps from one subject to another and easily laughs and cries in public. From the only time he saw her, Gareth also has mixed feelings about her. On the one hand, she is the link to his mother, and she treats him warmer than his father. On the other hand, Aunt Lizzy has her own agenda: she wants Gareth to become the son she could never have, by which the protagonist is taken aback.
But of course, all these thoughts remain in his head, and no one but the audience gets to delve deep into them.
And thus, allowed to witness the contrast between the boldness of the main character's inner voice and his shy, lacking self-confidence personality, we can't help but wonder how would his life have turned out had he expressed his feelings freely and fearlessly. Would he have had fourteen children with his beloved Kathy, who, as he gave up on her, ended up marrying another man? Would his father and he have become friends? Would he have been able to understand people if he gave them a chance to speak instead of assuming their rejection? At the same time, we ask ourselves the same questions, "Would have we…?" In this sense, identifying with Gareth's experiences, we realize that, unlike his, our drama is not over yet, and we can change its direction if we make strengths out of our weaknesses.