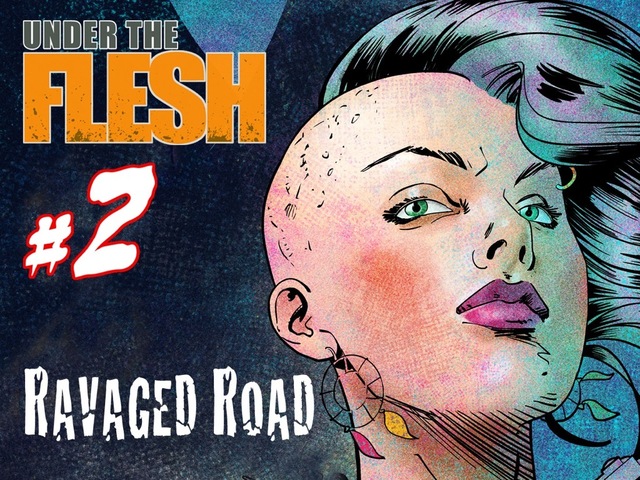 Review Fix chats with comic book writer Gilbert Deltres who discusses the send issue of his comic book series, "Under the Flesh." More than just your typical zombie fanfare, Deltres discuss the creative process behind the new issue, the series' goals for the future and their current Kickstarter campaign.
To Learn more about Under the Flesh, click here.

Review Fix: How pivotal was the Kickstarter to the growth of the series?
Gilbert Deltres: Simply put, KICKSTARTER is our lifeline. Without it, Under The Flesh doesn't exist. Simple as that. I financed UTF #1 out-of-pocket but the success of our 1st Kickstarter is what brought it to print and allowed us to produce issue two. Without our crowd-funding backers, the project isn´t possible, and my creative voice in comics is nothing but a hopeful inaudible whisper amongst a vivacious bustling marketplace.
Review Fix: Why do you think this series is special?
Deltres: UTF aspires to be different although it's a calculated mashup of familiar themes. The perennial example of what defines creator-owned comics.
Review Fix: Without giving too much away, how do things develop in the upcoming issues?
Deltres: Our comic is best described as Superhero Horror. It features an unknown virus which only infects males, degenerating them into savage cannibals, and the hero, Ruben Lobos, is a BOT (Biologically Optimized
Transhuman). He's clueless about his superhuman abilities, and learning more about them come at the price of risking the lives of those he's vowed to keep safe, one of which is the love of his life. A rashof sudden incidents lead Ruben to think fast, putting him on a path of self-discovery that'll reveal more about the shape of the world and the virus ravaging it.
Review Fix: Was the creative process any different for the new issues?
Deltres: The creative process remains relatively the same, although JL and I are committed to putting out our best work with UTF. As a two-man team without an editor, we're constantly challenging each other to keep this comic as engaging as possible.
Review Fix: Who's your favorite character? Why?
Deltres: I'd say Ruben. Anyone who decides to tape a machete to their hand in the apocalypse is my kind of guy.
Review Fix: Who do you think will enjoy the series the most?
Deltres: Zombie horror fans will find lots to love about UTF. We're hoping the direction of the comic will appeal to all fans in general, especially those who crave a good superhero story. We'd also like to attract the diversity crowd, since the cast in UTF is colorfully sound.
Review Fix: What do you think the future will hold?
Deltres: In taking things day by day I strive to be optimistic but the stark reality is that UTF is nothing without Kickstarter and the crowd-funding public. I would love nothing more than to be able to say that creating and writing comics will eventually be my primary day-job, but that solely depends on whether others willfully choose to aid in projecting my creative voice past that of a hopeful whisper.