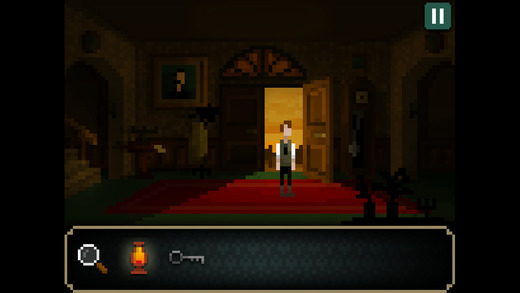 Review Fix chats with "The Last Door: Collectors Edition" Community Manager Raúl Díez who discusses the game and why you should check it out on mobile devices.
Review Fix: What were the decisions behind the iOS and mobile versions?
Raúl Díez: The main idea was to bring the very same experience of "The Last Door" on PC into mobile devices. We agreed with the publisher that was worth it to see if the TLD formula worked in the same effective way on mobile devices and, in the top of that, the truth to be told, many of our community members were insistently asking us to port the game into tablets and smartphones so we decided we had to give it a try.
Review Fix: What elements of the game do you think make it one that'll work well in mobile?
Díez: We think that point-and-click genre perfectly suits mobile devices. We personally think that moving a character or just combining objects by touching the screen is fun. Additionally, by adding a horror component to the mix we get a game which is very different from other games which people is used to see in the app stores, bringing some variety in the typology of games for mobile devices.
Review Fix: What was added or taken away to make for a better mobile game?
Díez: The only things that has been taken away are the bugs :) (kidding). Apart from that, control has been changed a little bit in order to make it more "touchable" and some social stuff has been added too, like Game Center or Google Play achievements. That's it. The rest of the dreadful experience is still there, unspoiled.
Review Fix: Why should someone play it that has it on PC or Mac already?
Díez: The game is free so players can download and test it and check if we have succeed in bringing "The Last Door" atmosphere into mobile devices. Right after that, and provided that players think that unlocking the whole content worth the money, then they can purchase it. Besides, you can play it everywhere, which is the main point to get it for mobile devices. Actually, some players only have desktop computers and since a long time, they were asking us for ubiquity to feel "The Last Door" experience
Review Fix: Why should someone play it for the first time in a mobile setting?
Díez: There aren't many point-and-click adventure games in mobile devices and even less have jumpscares. In this sense, "The Last Door" is quite groundbreaking. Actually, immersion is quite important to enjoy "The Last Door" to the max, hence players can now decide where to play it and where to get scared not only at their houses.
Review Fix: How do you want the mobile and iOS version to be remembered?
Díez: Like a "Lovecraftian pocket experience" or "The Last Door, an eerie pocket experience". That would be nice.
Review Fix: Are there any DLC or updates planned?
Díez: Updates like bug fixing or new OS versions support (right now we are researching the 64 bits support for iOS and the android 5.0 support), of course there will be. There aren't any plans for DLC though.
Review Fix: Anything else you'd like to add?
Díez: Try the game. It's free. And then you will be able to judge whether we have achieved a nice a portability of a Lovecraftian-horror experience for PC to mobile devices or not.