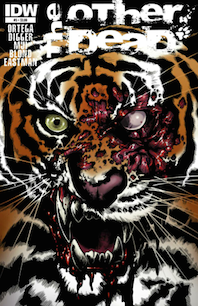 Zombie Animal Saga Being Developed Into Scripted Series
Animal Planet has exclusively optioned the popular zombie animal graphic novel THE OTHER DEAD to be developed into a scripted series.
From creators Joshua Ortega (Gears of War, Star Wars, Spider-Man) and Digger Mesch (Agent 88, X-Men, Payday), THE OTHER DEAD is a critically acclaimed, best-selling graphic novel from IDW Publishing. The story is set in Louisiana during the 'next Hurricane Katrina' and features an eclectic cast of characters thrown together into a nightmarish world of undead animals and unrelenting storms.
"The entire creative team could not be more excited about this partnership, and the timing for THE OTHER DEAD series could not be more perfect," says Ortega. "Zombie animal meets Animal Planet? Sounds like we have some serious undead fun ahead of us."
""Our stylistic and creative ambitions as a network happily found their echo in the pages of THE OTHER DEAD, says Kurt Tondorf, vice president of development at Animal Planet. "We're rabid about bringing Josh and Digger's bold, wry and unrelenting vision to life."
"This is an intriguing choice for Animal Planet as the network further branches out into different, dynamic genres," says Rick Holzman, executive vice president and general manager of Animal Planet.
Animal Planet is targeting first quarter of 2016 for its premiere.