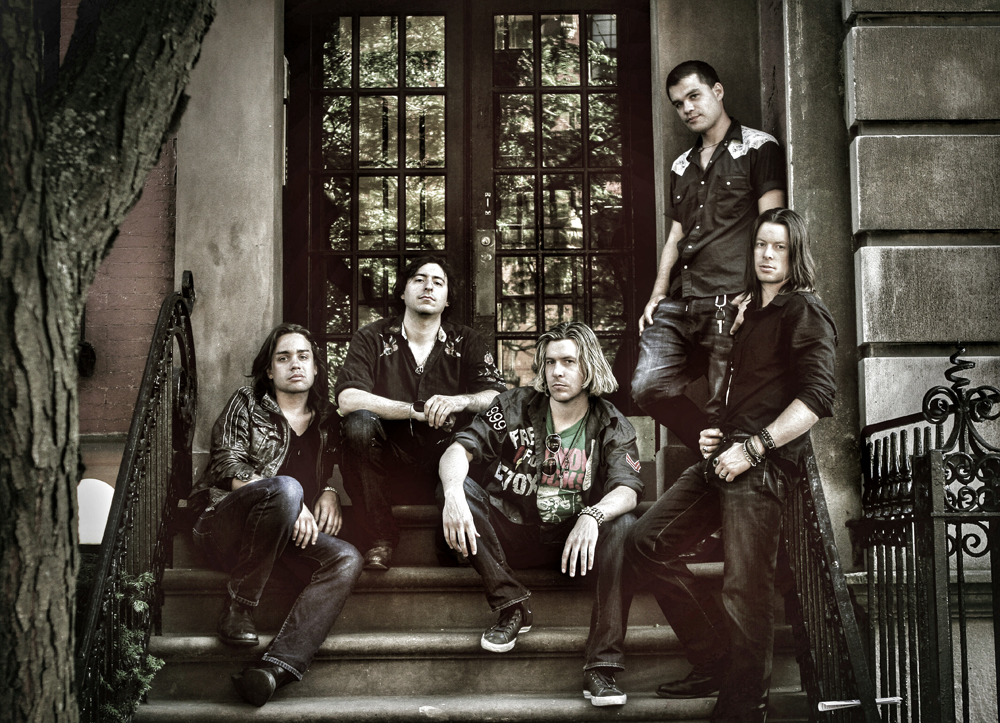 Review Fix chats with Boston band Crash Mightnight, brothers Shaun Soho (vocals) and Bo (bass) and Alex Donaldson (lead guitar), who discuss the band's debut album "Lost In The City" via Bronx Bridge Entertainment/Universal. Breaking down their creative process and the band's origin, they give us an inside look at what makes them special.
Review Fix: How did the band get together?
Alex Donaldson: Roughly a decade ago I moved to Boston to start a rock and roll band and go to college.  I moved almost immediately after I graduated high school.  I remember auditioning for the band and telling Shaun and Bo that I was 19 instead of 18 to help my chances with getting in.  In retrospect, it was kind of ridiculous.
Shaun Soho: Bo and I had been playing all over the Boston scene for a couple years and were just tired of everything going on at the time.  We wanted to do something that sounded like the rock and punk we loved and there just wasn't anything like that available in the area.
Bo Soho: It was both a lot of fun and a huge challenge to have a sound that wasn't really mainstream in the scene at the time.  We had to fight to get on bills with a lot of Nu-Metal and college rock acts dominating the clubs.
Review Fix: What makes your band different?
Shaun Soho: For me, it's that we never tried to follow a trend or hell, even in my case, pay much attention at all to what's popular at the moment.  We made the music that we believed in and that we wanted to hear.  What's so validating right now is seeing the reaction from so many rock fans.  I can't tell you how many times on this last tour we had new fans come up to us and use the word "finally!" to describe their reaction to someone "finally" playing music like this again.
Bo Soho: It's really cool to see something you've put that much of yourself into, being appreciated so much by these audiences.
Alex Donaldson: I think a lot of it stems from my playing in punk bands early on.  As a teenager I really cut my teeth as a performer opening up for bands like Agonstic Front, The Queers, and The Slackers.  The great thing about punk rock is that the performance feeds off of the electricity in the room.  I do my best to bring that element to the band's performance.
Review Fix: What bands do you guys get your inspiration from?
Shaun Soho: A lot of the obvious ones when you hear our sound: Stones, Aerosmith, GnR, Zeppelin, Cooper, New York Dolls, Iggy Pop and then some of those maybe lesser known acts like The Dead Boys and Hanoi Rocks actually have had even bigger impacts on our songwriting than those bigger bands
Alex Donaldson: Punk bands, bluesmen, classic rock bands.  Joe Perry, Slash, Jimmy Page, Peter Green, Mark Knopfler from the whole guitar perspective.  I also loved 90s Epitaph/HellCat/Burning Heart punk rock as well.
Bo Soho: Hanoi is a big one for all of us I think.  I love the Clash and Johnny Thunders and a lot of the faster punky stuff like Ramones, Rancid and all those guys.
Review Fix: What was it like to tour with The Pretty Reckless & Adelitas Way?
Alex Donaldson: The tour was amazing.  All three bands brought their A game every single night, pushing us to get better and better every show.  Taylor has a huge presence and Rick from Adelitas Way always has the crowd eating out of his hand by the end of the set.
Shaun Soho: We drank all of Adelitas Way's beer.
Review Fix: How is "Lost in the City" a special album?
Alex Donaldson:Â Because it took longer to write and record than most bands exist from start to finish.
Bo Soho: I like that answer.
Review Fix: What was the creative process like for this album?
Shaun Soho: Self-destructive. But that makes for the best stories I guess.
Bo Soho: No one wants to hear about the best soy latte you ever had, Train!
Alex Donaldson: Ha! Maybe if they spiked it with 151.
Review Fix: What song do you think is the best indication of your ability, why?
Alex Donaldson: I love "City Girl" because they gave me three guitar solos!
Shaun Soho: "City Girl" is more indicative of our ability to tolerate Alex.
Bo Soho: I would say playing the bass guitar in the intro to Runnin' With The Devil really showcases my abilities.
Shaun Soho: The breakdown in "Long As It's Free" leading into the last chorus actually really does showcase Bo's writing ability.  That's probably my favorite section in any song we've ever written.
Review Fix: Is there a story behind it?
Shaun Soho: With this band, there's always a story behind it.
Alex Donaldson: Depending on the statute of limitations.