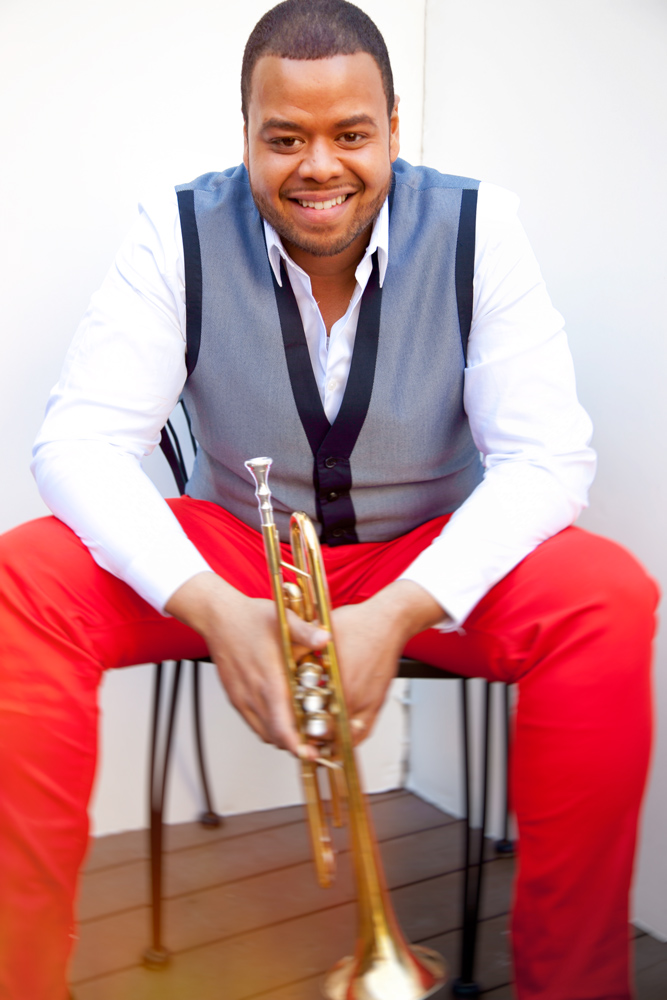 Miles Davis once said that the hardest thing for a musician to do is to sound like himself.  In this case, Jumaane Smith knows what he wants. He is more than a trumpet player. He sings, writes songs, scores for films- he can even can play drums. He has so much range that he can go from playing with a legend like Stevie Wonder to a current day star the links ofJustin Bieber. And has done both.
With a career already established as a supporting act and band member, Smith is ready to take the music world by storm with his soothing jazz playing bringing an old school jazz vibe with a modern twist- as a solo artist.
"I do agree about finding your voice, but it comes from a lot of studying," Smith says. "It's like a surgeon performing a surgery. You don't go into the surgery without the knowledge." he says a-matter-of-factly.
Smith is a talent to be reckoned with. He is a trumpeter and vocalist. He has played with the likes of Michael Buble, Jackie Evancho, Quincy Jones, Alicia Keys on her album "As I Am" Diddy, Bieber, as well as Wonder and the Jonas Brothers. But where does all this ambition and talent come from? Smith got interested in music at the age of three, playing piano and the drums.
"My aunt's husband at the time had a studio in the basement so I would play with the piano and the drumset. Instruments were like toys to me," he says. "Learning piano and drums first were helpful elements in my playing and my musicianship. It can translate to any instrument."
He then began playing bass as a teenager and started singing. The hard work paid off because just at the age of 16, he was in Europe when he was a member of the Roosevelt High School Jazz Band. In 2005, he auditioned for Buble and since then has played and toured with the popular crooner.  He says his time working with Buble is great because he is "very warm and friendly."
"It's like how a spider weaves its web," he says. "You start with a few people and then it grows. At Julliard, I made a lot of connections. You have to prepare for the performance to establish yourself. I then moved to LA and eventually I got to practice with Stevie Wonder and played at the Grammys with him. In between rehearsals he would practice and we would watch him and see how he works."
But this time he gets to grace the stage as a solo artist. His debut album, "I Only Have Eyes For You" is a collection of covers featuring duets with Buble and Jackie Evancho.
"It was a dream of mine do a solo album," he says enthusiastically.  "I wanted to make an album that has depth and was familiar but brought you to someplace else. It took a long time to evolve it what it is. But it's an album that's from my heart and I put a tremendous amount of work into it. When I got to with Jackie Evancho I worked with an orchestra which was a great experience. I love all the songs on the album. I love the sentiment of the song Dream." he says proudly.
The album features his renditions of classics such as "Georgia On My Mind," "La Vie En Rose," in which Evancho sings beautifully on. It also includes "Come Rain" or "Come Shine" featuring Buble.
Smith has also started work on his sophomore album, one which he wants to showcase his songwriting.
In the future Smith would also like to score more for films and he has a dream job he hopes he can land. He wants to play with the Roots and he would like to work with Herbie Hancock again. He also had a chance to work with the late Amy Winehouse, but before anything can happen she passed away.
"I got a call to do some work from this guy from Amy's horn section but the scheduling wasn't right" he said with a sigh.
He would like to introduce jazz to a wider audience and get young people interested in the genre.
"America needs to be exposed at a young age," says Smith. "If you're familiar with the roots of jazz then you can understand it. To many people it's a foreign language but if you can understand the language of jazz then you can understand the beauty and uniqueness of it."
Now on tour with Buble, his future ahead looks to be very busy and fruitful as he gets ready to finish his second album. But unlike many other artists only on their second album, Smith's success as a supporting player have played a crucial role in his confidence. The recordings Smith has been featured on have sold a remarkable twenty-five million copies and has earned four Grammy nominations and won three Grammys.
"Everytime in a while I remind myself of all the accomplishments. I feel very grateful for them," Smith said. "You have to work as hard you can every day and realize people are getting up at six am to practice to get to the top. It comes a time in an artist's life and time you have to find your voice. For now, I am enjoying the ride and see where it takes me."