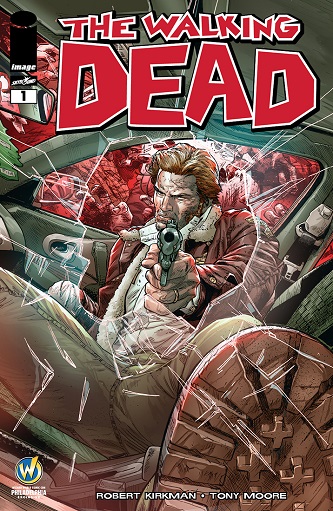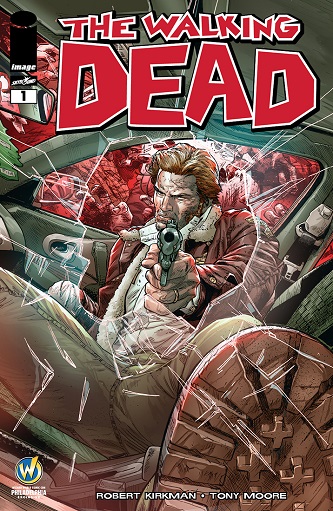 'Batman Eternal,' 'Harley Quinn' Artist Has Drawn Ninth Cover In 2015 Series Available At Pennsylvania Convention Center For Full-Price Attendees; VIP Fans Get Additional B&W Sketch Cover At Registration
Wizard World, Inc. (OTCBB: WIZD) and Skybound, Robert Kirkman's imprint at Image Comics, announced that Batman Eternal and Harley Quinn artist Clay Mann has drawn the ninth in a yearlong series of Limited Edition Exclusive Variant Covers of The Walking Dead #1 comic, to be provided free to all full-price attendees at Wizard World Comic Con Philadelphia, May 7-10. Skybound'sThe Walking Dead created by Kirkman, the groundbreaking, Eisner Award winning comic book series, continues to captivate audiences worldwide.
The exclusive The Walking Dead #1 edition will be produced in extremely limited quantities and is available at registration to fans at the Pennsylvania Convention Center only while supplies last. VIP attendees will receive an additional black & white sketch version of the comic.
The prolific Mann has worked on popular titles for both DC and Marvel, including X-Men, Batgirl Indestructible Hulk, Gambit, Thor: Man of War, Daredevil and many others. The Orlando, Florida, resident is working with Valiant Entertainment on the new series Ninjak.
The artists for future books will be announced as they are selected. A similar series in 2013 featuring exclusives of The Walking Dead #1 proved to be wildly popular with fans. The full schedule of 2015 Wizard World shows is available at www.wizd.me/PRSchedule2015 .
Stars of "The Walking Dead" TV series scheduled to attend Wizard World Comic Con Philadelphia include Michael Cudlitz ("Sgt. Abraham Ford"),Michael Rooker ("Merle Dixon"), Robin Lord Taylor ("Sam") and Scott Wilson ("Hershel Greene"). Other standout celebrities attending include David Tennant and Billie Piper from the fan favorite "Doctor Who," Ben McKenzie ("Gotham:), Nathan Fillion ("Castle," Serenity/"Firefly"), Burt Reynolds ( Boogie Nights, "Evening Shade"), Stephen Amell ("Arrow"), Karl Urban(Star Trek, The Bourne Supremacy), Hayley Atwell ("Agent Carter," Captain America: The First Avenger ), Danny Trejo(Machete, From Dusk Till Dawn ), Penn Badgely ("Gossip Girl," Easy A ), Kelly Frye (The Flash ), Katie Cassidy ("Arrow," "Gossip Girl"), and more.
In addition to Mann, Artist Alley in Philadelphia will feature Rafa Sandoval ("Superboy," "Catwoman"), Neal Adams ("Batman," "X-Men"), Andrés Guinaldo ("Superboy," "JLA's), Ken Kelly ("KISS Album Covers," "Micronauts"), J.G. Jones ("Batman B&W," "Green Lantern Corps"), Rob Liefeld ("Deadpool"), Dan Slott ("Silver Surfer," "Mighty Avengers"), Matteo Lolli("Wolverine and the X-Men," "Thunderbolts") and Will Sliney ("Spider-Man 2099," "Amazing Spider-Man") and many others.
Wizard World Comic Con events bring together thousands of fans of all ages to celebrate the best in pop-fi, pop culture, movies, graphic novels, cosplay, comics, television, sci-fi, toys, video gaming, gaming, original art, collectibles, contests and more. The 10th of 27 events currently scheduled on the 2015 Wizard World calendar, Philadelphia show hours are Thursday, May 7, 3-8 p.m.; Friday, May 8, 12-7 p.m.; Saturday, May 9, 10 a.m.-7 p.m.; and Sunday, May 10, 11 a.m.-5 p.m.
For more on the 2015 Wizard World Comic Con Philadelphia, visit http://wizd.me/PhiladelphiaPR.